Quorn Foods CEO Kevin Brennan sets out stall for 2017 - interview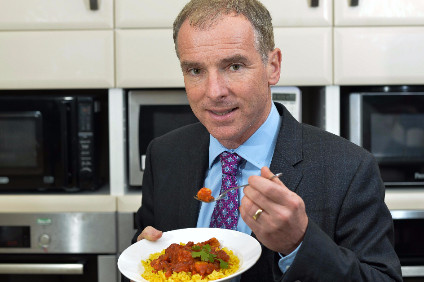 Brennan outlined plans for growth in Asia and in UK
A year after the takeover of Quorn Foods by Philippines-based group Monde Nissin, the UK meat-free business is setting up its first operations in Asia and investing in building its teams in Europe to try to grow further there. Dean Best spoke to Quorn Foods CEO Kevin Brennan, who outlined the company's plans for the next 12 months.
It is Friday evening (25 November) in Sydney when Quorn Foods CEO Kevin Brennan calls just-food to discuss the UK meat-free group's latest plans for growth.
Brennan is in Australia to see how Quorn's business in the country is getting on and has already been to Melbourne. Before Melbourne was Singapore, where Quorn is setting up its first office in Asia. After Sydney will come Manila, where Quorn, a year since being bought by Philippines group Monde Nissin, has just seen its products go on sale.
Quorn Foods agrees sale to Philippines group Monde Nissin
In sales terms, Quorn has been one of the UK's best-performing food businesses in recent years; it expects to see its sales in the UK rise 8% in 2016, another solid year in a fiercely competitive market. The company has also developed into a more international business, with offices in the US and Europe. Now, with Monde Nissin's backing, Quorn is looking to grow in Asia, a market where, through imports, the brand has some presence but a region where the company appears now set to make a significant push.
Surveying south-east Asia, Brennan says the rate of development of the market for meat-free products varies by country. "If you take, say, Singapore, Malaysia, Hong Kong and Taiwan, all those have already got a reasonable amount of market development but, generally, with cheap and poor-quality products. In markets like that, our objective would be to enter and transform product quality. In those markets, not everybody can afford our product but a lot of people can - there are a lot of international brands that sell in those markets - so we did think that very quickly we could get into those markets. In some cases, through importers, our products have already appeared. In a series of markets like that, it is more about helping take share in the category and then accelerating the growth of it," Brennan says. "Meanwhile, we're also looking at markets - China maybe one day, India very interesting, with 30% vegetarians in the population - where there probably isn't a material market but we could develop one. Putting a team into Singapore means we can have people look at those things and evaluate them."
In the Philippines, Quorn's first move has seen local pizza chain Shakey's is using Quorn products on its pizzas. Brennan says 10-15% of the pizzas sold across 200 Shakey's outlets use Quorn spicy chicken or pepperoni pieces and the demand for those pizzas has, he says, given Quorn and Monde Nissin "confidence from a consumer acceptance point of view" that the brand can prosper. Quorn plans to launch products into grocery stores in the Philippines in the spring and Brennan says he expects "quite a significant number of big foodservice customers to come on-stream as well".
Foodservice, Brennan underlines, is a key channel for an international brand, particularly one that may be novel to some consumers, looking to build a presence in south-east Asia. "As a generalisation, in south-east Asia, you have to have more focus on foodservice because people eat out for lots of reasons a lot more proportionately than they do in Europe, so if you're going to win, you have to have a bigger foodservice focus than you would do in Europe."
Quorn's plans for 2017 also include a fresh push in the UK, where Brennan says the company is looking to grow sales at a "double-digit" rate next year. He reveals the company is "planning a big relaunch of the brand" in the UK, involving "communication, packaging and NPD", although he declines to give further details. However, Brennan adds: "We're growing with everybody in terms of the retailers in the UK. I think everybody gets there's a big opportunity for the category. We've identified some ways we can do even better and accelerate category growth."
Brennan also cites the online channel - "it's growing, we've got a good business but we know we can do more" - and convenience - "we should do better in that channel" - as two other areas in the UK Quorn will target. "We still think there are lots of opportunities to unearth in the UK and hence we're strengthening and adding resource in the UK team and, generally, commercially in the UK and internationally to do that."
As part of what Brennan has calls "the fastest level of expansion we've experienced in our history", the company is also adding more than 25 commercial roles to its offices in the UK, the US, Italy and Germany.
Brennan cites Europe as one of Quorn's "core growth markets" and says the company will continue to invest to grow its business across the English Channel. What kind of impact has Brexit had on Quorn?
"The short-term answer is the FX impact puts our costs up. We buy a significant amount of things from outside the UK and therefore our costs are going up but ... if you look internationally, the sales are more valuable. At the moment, you probably net-out and say it's about neutral for us but it's not a problem," Brennan says. "We haven't changed our view on the long term. We're continuing to invest into Germany, Italy, Nordics et cetera at this stage and we'll see what comes out of it. Our view is that Europe will remain attractive to us in the long term. I feel as though we will still be able to trade profitably in what is a fast-growing region for us."
The fall in the sterling in the wake of the UK's decision to leave the EU has led a number of food manufacturers to turn to their UK retail customers and request price increases. Asked if Quorn will be looking to put up its prices in the UK, Brennan says: "Our objective is to not do that. We can't control inflation, the price of oil, the things we buy, the exchange rate. Our objective is to avoid it even though we face very significant on costs in the UK. We'll do everything we can to avoid it for as long as we can, whether it's this year, next year or the year after if we can."
Oops! This article is copy protected.
Why can't I copy the text on this page?
The ability to copy articles is specially reserved for people who are part of a group membership.
How do I become a group member?
To find out how you and your team can copy and share articles and save money as part of a group membership call Sean Clinton on
+44 (0)1527 573 736 or complete this form..