South Africa's Pioneer Food Group adds brands in UK growth push - interview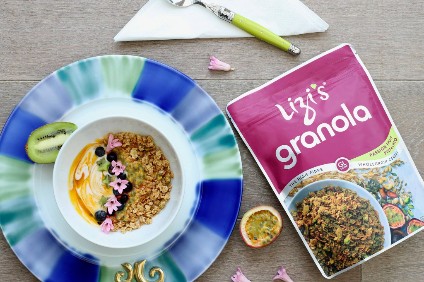 Pioneer snapped up UK granola brand Lizi's in December
South Africa's Pioneer Food Group last month moved again to expand its business in the UK, snapping up Lizi's granola owner The Good Carb Food Company. The deal was the first since Pioneer renamed its UK arm in September and announced "ambitious expansion plans" for the market. just-food's Simon Harvey spoke with Jonathon Thorn, the chief executive of Pioneer's UK unit, about the company's plans in the country.
The UK arm of South Africa's Pioneer Food Group has historically focused on manufacturing a range of private-label cereals – porridge, granola, wheat biscuits, muesli and bran flakes – for major British supermarkets and discount retailers.
Own-label still represents the bulk of Pioneer's UK business but, in the last 18 months, the company – which figures among the largest branded grocery suppliers in its home market – has sought to give its British subsidiary a branded flavour.
In August 2016, Pioneer bought Stream Foods, the UK producer of the children's snacking brand Fruit Bowl. And, last month, the company acquired Cardiff-based The Good Carb Food Company, which owns granola brand Lizi's.
The move for The Good Carb Food Company came three months after Pioneer renamed its UK business from Bokomo Foods and announced "ambitious expansion plans" for its business in the country.
At the same time, Pioneer announced the promotion of commercial manager Jonathon Thorn to CEO of its UK arm. Thorn joined Bokomo Foods straight from university a decade ago and progressed through a number of management roles before becoming chief executive of the new Pioneer Foods UK in September.
Speaking to just-food last month after the deal for The Good Carb Food Company was announced, Thorn tells just-food Pioneer's UK division will round out last year with revenues in the region of GBP73m (US$99.2m), compared to about GBP15m when he started at the firm. He estimates turnover has increased from around GBP65m in a year.
While Pioneer's UK business is growing, overall the going has been less good. Group revenue dropped 5% to ZAR19.6bn (US$1.58bn) in the year to 30 September amid pressure on its domestic businesses raw-material prices, falling volumes and a lack of success in raising prices. Over the year, profits slid 57% to ZAR726m.
In South Africa, Pioneer figures among the country's largest suppliers of branded grocery products, with a portfolio that includes Weet-Bix cereal, Sasko flour and Safari snacks.
Reflecting on the performance of Pioneer's UK business, Thorn says the unit has had "some amazing growth over the last few years" but adds: "We are also redirecting our business to be slightly more branded focused as well, with the acquisition of the Fruit Bowl brand last year [2016] and obviously the new acquisition of the Lizi's brand. We are very much a branded business in South Africa and we are experts in that, so [we consider] how can we leverage our knowledge in the UK to add brands into what we can do here."
Pioneer's desire to grow internationally, as well as, in the case of Lizi's, an interest in seeking to add a business close to its historical core in the UK were factors behind the company's latest acquisition in the country, Thorn explains.
"Pioneer's strategy has really been about international expansion," Thorn says, adding: "[In the UK], it makes sense to expand from where we already are, and in product sets that we know very, very well.''
The group has made Lizi's products in the UK under licence since 2005. When Pioneer announced the acquisition on 13 December, group CEO Tertius Carstens described Lizi's as "the fastest-growing brand in the UK's fast-accelerating granola category" and said the deal would "benefit both the Lizi's business as well as our own, given the synergies between the companies".
Pioneer, Thorn tells just-food, will look to use its leverage to help further build the Lizi's brand, using its infrastructure, relationships with retailers across Europe and the international reach of the parent company.
Asked how much revenue the newly-acquired granola maker makes, Thorn is unable to pinpoint specifics but says it is a "good GBP6m-7m at retail value in the UK", posting "double-digit growth in the last three years".
Lizi's also has a "big" international presence, Thorn says, with The Good Carb Food Company exporting to mainland Europe, the Middle East, Japan and China. Pioneer wants to expand those overseas markets but Thorn says the company is at this stage only "assessing those plans".
He adds: "It's such a great brand. An established and loyal brand in a very difficult category in cereals and we understand the consumers in that space. We think it's a perfect fit for our business to take that brand forwards."
And Thorn suggests Lizi's could possibly help Pioneer's UK arm move its legacy business in the country into new segments.
The Lizi's range also features in the on-the-go category, with granola packs and GoGo granola bars. Thorn says Pioneer is still in the initial stages of looking at its UK snacking business to help shape the development of its legacy cereal operations but indicated the company is aware it needs to stay abreast of consumer trends.
"The company would have to look at how to transfer its technology over to those arenas in the future," Thorn says. "If we can get a good proposition into those areas, as in any business, I definitely thinks it's a growth area for anybody. "In the fast-paced environment we are working in at the moment, whether snacking or materials, it's how we continue to stay above the curve by communicating and reacting to our consumers and hitting their constantly changing needs."
Meanwhile, this year, Pioneer is looking at a relaunch of the Fruit Bowl snacks brand it acquired in the summer of 2016, focusing on innovation and new packaging. The company wants Fruit Bowl to be "more on trend with natural-focused products, and focused on what the consumer wants", Thorn says. "We've got big plans for the brand over the next six months."
For all Pioneer's recent investment in the UK and its ambitions to continue to grow, the company has, by its own admission, felt the effects of the country's decision to leave the EU.
When Pioneer announced its annual results in November, the company said its UK business had been "impacted by uncertainty around Brexit" and the "consequent weaker currency", which it reflected had led to "import inflation and an inability to increase sales prices sufficiently".
Thorn says dealing with the impact of the vote for Brexit has been one of his biggest challenges since becoming the chief executive of Pioneer's UK unit in September. He points to a "significant'' proportion of the company's base ingredients coming from overseas, adding they are mainly priced in US dollars.
"As in the rest of the food and drinks industry, the exchange-rate fluctuations as a result of the Brexit scenario that happened, [meant it] has been a tough time to join this part of the business, and to have these responsibilities moving it forward,'' Thorn reflects. "Our biggest challenge over the last 12 months has been rising import costs from the goods that we bring in.''
Questioned on how Pioneer might respond to Brexit, Thorn says it is a case of "being ready to react if we need to react'', adding: "Strategies and structures may have to change, we have just got to wait and see."
Thorn is seeking to create new export markets for the products Pioneer makes in the UK. The unit ships to the Netherlands, Germany and Scandinavia and Thorn has plans to boost shipments as a percentage of Pioneer's UK turnover from 10% now to 20%. While that proportion might appear relatively small, he pointed out that the UK breakfast cereal market – which he estimates at around GBP1.5bn – is "massive compared to Europe".
After two acquisitions in under a year-and-a-half, Thorn says there is "nothing on the radar at this moment in time" but insists Pioneer's UK arm is keeping an eye on the market.
"Clearly, it's about timing and capacity, and finding the right investments in the UK and Europe that can fit with our strategy but I think we are still on the outlook for further investment."
Oops! This article is copy protected.
Why can't I copy the text on this page?
The ability to copy articles is specially reserved for people who are part of a group membership.
How do I become a group member?
To find out how you and your team can copy and share articles and save money as part of a group membership call Sean Clinton on
+44 (0)1527 573 736 or complete this form..