Sustainability Watch - Piera Waibel, Lindt & Sprungli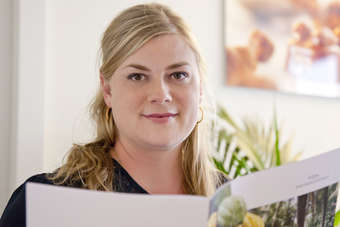 Lindt is eschewing use of certification labels like Fairtrade, says Waibel
Lindt & Sprungli has just expanded its cocoa farmer programme in Ghana which will see the company give support to some 45,000 farmers between now and 2016. Sustainability manager Piera Waibel spoke with Ben Cooper about what the company is doing in Ghana and why it has decided not to have any of its brands certified under schemes such as Fairtrade.
The Swiss chocolate company, Lindt & Sprungli, has just announced a significant expansion of its programme to support farmers in Ghana.
The group says the scaling up of the scheme will see 45,000 cocoa farmers receive additional support between now and 2016, aimed at "improving agricultural, social and environmental farming practices". The increased support is aimed at "more than doubling productivity yield and increasing farm family income considerably", the company says.
The expansion of its Ghanaian programme appears to be consistent with Lindt's rhetoric on sustainable sourcing. In its "Sourcing Strategy", it says that, in the procurement of raw materials, "great importance is attached to compliance with the rules of sustainable conduct", including respect for social aspects, such as working conditions and incomes of farmers in the growing countries, support and promotion of environmentally-friendly production conditions, and payment of fair prices for raw materials.
However, look for a Fairtrade, UTZ or Rainforest Alliance mark on any Lindt bar of chocolate and you will not find one. "We are committed to source 100% of cocoa traced and verified by 2020, but will not use certification labels on our products," Lindt & Sprungli sustainability manager Piera Waibel says, in an interview with just-food.
Nevertheless, this does not represent quite the contradiction in terms that it may first seem. Rather than having certain brands bearing the logo of a particular certification scheme, Lindt wants its entire range to be produced to the same sustainability standards, with its brand the guarantee of sustainability. "We want to have the whole product range covered by the same standards and systems, and not just products for certain markets or product groups," says Waibel. "The Lindt brand should stand for a sustainable value chain."
However, Waibel points out that "the standards are based on what UTZ or Rainforest Alliance are asking for, but the methodologies for verification can vary".
She also stresses that while Lindt may have decided not to use an external certification organisation, independent verification of its sustainability standards is critical. "We have a commitment to have 100% verified cocoa by 2020 which also means that there is an external organisation verifying compliance."
For Waibel, the positive contribution to farmers' livelihoods is the priority, no matter how this can be achieved. "Whether it is certification or verification, of most importance is to improve the farming practices and the farmers' livelihoods. The farmers don't care if there is a label or not; they care about the programme and the benefits they and their families have from it."
Included in the Lindt & Sprungli Farming Program is the introduction of a detailed farm mapping, a complete "professionalisation" training package for farmers and improved planting material through farmer-led nurseries. Lindt says farmers will have access to credit for necessary planting appliances in newly created farm shops.
In each district, if not already in place, a Village Resource Centre is to developed. The programme is already effectively off the ground. In 2012, during the pilot phase some 8,000 farmers benefited. In 2013/2014, 15,000 farmers will join the programme, with a further 25,000 following over the next three years. By 2016, Lindt & Sprungli plans to have the training programme completed for all farmers in Ghana that it provides cocoa for the Lindt system.
By paying a voluntary premium per each ton cocoa beans it sources, a system similar to that run by the Fairtrade, Lindt & Sprungli has invested so far over US$5m in infrastructure and social projects working through non-profit organisation Source Trust. These monies have been used to reconstruct a school, provide mosquito nets and boreholes for access to clean drinking water. The expansion of the programme will provide a further US$10m in premiums.
In order to realise this stepping-up of the programme, Lindt has worked in partnership with the Ghana Cocoa Board, the Cocoa Research Institute of Ghana and its "implementation partner Source" Trust Ghana (implementation partner).
Waibel says the involvement of Source Trust and its supplier Armajaro has been key. "The partnership with Source Trust and Armajaro is very important for us, as their staff on the ground has a close insight and tight connection to the farmers on a daily basis."
One possible disadvantage of staying out of schemes such as Fairtrade or Rainforest Alliance is missing out on the positive publicity from a brand "going Fairtrade" that both Nestle and Cadbury, for example, have clearly benefited from, even though the percentage of their total production that is actually certified is very low. Lindt is denying itself that reputational halo.
However, this can be offset by communicating more actively about sustainability, and Waibel says Lindt is stepping up communication around sustainability, not least because there is "increasing interest from NGOs and consumers" in its sustainability efforts.
In particular, consumers today are demanding more information about the supply chain behind the brand. "That is definitely the case. We already have a lot of information on our CSR website and answer questions from stakeholders on an individual basis," says Waibel. "We are now starting to communicate in smaller pieces to a broader public," she adds.
Having just made a major announcement about its work in Ghana, there may be regular bulletins of this nature from Lindt, not least as the company is looking to replicate what it has done in Ghana, not only in other countries where it sources cocoa but also in other agricultural supply chains. "We are evaluating different options to extend the programme to other countries and raw materials we use in our chocolate. With regards to traceability, first steps have already been initiated in other countries of cocoa origin."
Oops! This article is copy protected.
Why can't I copy the text on this page?
The ability to copy articles is specially reserved for people who are part of a group membership.
How do I become a group member?
To find out how you and your team can copy and share articles and save money as part of a group membership call Sean Clinton on
+44 (0)1527 573 736 or complete this form..