The just-food interview - Kikkoman chairman Yuzaburo Mogi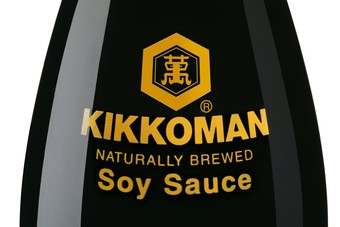 Kikkoman's soy sauce is enjoying double-digit growth in Europe, says Mogi
Japanese soy sauce maker Kikkoman claims to have been the first to produce the seasoning back in the 17th century. However, with growth hard to come by in a domestic market in the doldrums, Kikkoman has had to look overseas for growth. Julian Ryall met Kikkoman chairman Yuzaburo Mogi to find out how the company is adapting to meet demand in Japan and internationally.
There is no single secret to creating the best soy sauce in the world, according to the head of the Japanese company that first produced the seasoning as far back as the 17th century. Rather, the secret is a combination of three things, Yuzaburo Mogi, honorary CEO and chairman of the board of directors of Kikkoman, tells just-food.
"The first secret is in having an excellent starter mix of top quality ingredients," says 76-year-old Mogi, referring to the mash of steamed soybeans, roasted wheat and combined with the company's proprietary Kikkoman aspergillus - micro-organisms that act as a seed starter. "The next thing you need is excellent technology because even if you have a good starter, you will not get good quality soy sauce if your fermentation technology is poor. And then you need to have the philosophy within the company that quality is the highest priority. We do not sacrifice quality for anything."
That approach to a product that is ubiquitous in Japanese homes - and becoming so in parts of the rest of the world - has made Kikkoman the largest domestic producer of soy sauce, with annual sales of JPY283.5bn (US$3.69bn), equating to an average growth in overseas sales of 8.4% a year since 1974.
Those figures are particularly impressive given the domestic economic problems that Japan has faced in the last two decades, in addition to the nation's well-documented natural disaster in 2011.
"We have experienced a lost 20 years since the early 1990s in which the economy has not grown," Mogi says. "We need to put that economic slow-down behind us. But this has been an unfortunate year for Japan, with the Great East Japan Earthquake, the tsunami and then the problems at the Fukushima nuclear plant. Now we have to revitalise the economy at the same time as rebuilding the affected areas."
That said, Japan only experienced the mildest of recessions, the economy withstood the earthquake and, while that has actually strengthened the yen against other currencies, Kikkoman has not been greatly affected by changes in the exchange rate because it has seven production facilities overseas - two in the United States and China and one each in the Netherlands, Singapore and Taiwan - from where it is able to supply its markets.
On the contrary, Mr Mogi says the strong yen has helped Kikkoman reduce the amount it spends on purchasing the raw materials it needs - primarily wheat and soybeans - from Canada, the US and Brazil, although he concedes there is still great uncertainty over commodities.
"The biggest problem is fluctuations in the cost of raw materials," he says. "The price of any commodity is decided according to economic principles of demand and supply, but the higher prices we are required to pay for raw materials are partly because of a fluctuation caused by speculators, and that is a problem.
"Something should be done to stop speculation. I believe in a free market and open trade and those regulations should be minimised, but the rules as they stand at the moment are not strong enough. More regulation is required."
Despite the firm's upbeat outlook and plans for the future, Kikkoman's operating income fell 8.5% to JPY9.36bn in the first half of its current financial year, which runs until the end of March. Net sales were JPY141.83bn, down 1.2% on the year.
Kikkoman emphasises, however, that sluggish demand at home for soy sauce, food products and drinks, is largely being offset by sales figures from overseas, a key target for the firm given Japan's contracting population and recent economic problems.
"We have been enjoying double-digit growth in the European market, we're strong there and are not affected by the European economic problems," Mogi points out. "We started seeing double-digit growth in the 1990s and it has continued every year since. Soy sauce goes well with meat and that is why sales in Europe are growing. We do not make people use it only for Japanese food. Our target is for them to use it for their own local cuisine and, if the European market continues to grow like this for the next 10 years, then we will need to build another plant there."
Kikkoman's first US production facility was in Wisconsin, from where soy sauce was first shipped in 1973. A second North American plant opened close to Sacramento in 1998 and the company's US sales also enjoyed double-digit growth for almost 30 years, Mogi reflects. That has reached a plateau now and annual growth is at a more moderate 3-5%. Kikkoman is now turning its attentions to the South American market and, if it is successful, then another new plant may be required to meet demand elsewhere in the Americas.
"Per capita income may not be huge in South America, but it is growing and the key factor there is that they eat a lot of meat," Mogi says. "We believe that in a few years, there will be a lot of demand so this is an interesting market for us."
Kikkoman is also present in the Chinese market, and although its products are between three and five times more expensive than domestically produced soy sauce, China's rapid economic development means that the middle class will have expanded dramatically in the next decade, giving people enhanced spending power. Later this month, Kikkoman plans to open its first sales office in India.
And Kikkoman - like most Japanese companies - really is required to look to foreign markets for its future growth strategies because the domestic consumer base is shrinking as Japan's population contracts and tastes and social conditions change.
"Essentially, Japanese consumers have been influenced by Western food, while Japanese women are also working longer, meaning they are not able to spend as much time cooking," Mogi says. "That means demand has shifted from simply buying soy sauce that women then used to make their own meat sauces or broth for noodles at home to demand for the finished product."
With the market at home matured, Kikkoman's research and development teams are looking to add value to soy sauce-based products, such as a sauce specifically devised for sashimi and a range of barbecue sauces. The company has also diversified at home with the addition of seasoning mixes and a soy sauce that makes use of a new packaging that keeps the product fresh. Even a company that pioneered a category needs to ensure it continues to monitor changes in consumer tastes - domestically and internationally.
Oops! This article is copy protected.
Why can't I copy the text on this page?
The ability to copy articles is specially reserved for people who are part of a group membership.
How do I become a group member?
To find out how you and your team can copy and share articles and save money as part of a group membership call Sean Clinton on
+44 (0)1527 573 736 or complete this form..