The just-food interview - Patrick Cairns, Kallo Foods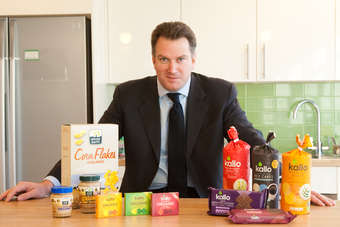 Kallo Foods CEO Patrick Cairns
The UK organic sector may be in the doldrums but Patrick Cairns, the chief executive of UK natural and organic food maker Kallo Foods, believes organic has its place and that the underlying demand for healthier, natural food will stand the company in good stead. In this month's just-food interview, he talked to Dean Best about his moves to refocus Kallo and his strategy to grow the business.
Taking a job as chief executive of an organic food company in the UK in the teeth of the worst economic conditions for a generation could strike some as a courageous move. Unlike in some markets on the Continent, the organic sector has suffered in the UK, with sales falling in many categories as cash-strapped consumers turned away from the sector.
However, Patrick Cairns, the chief executive of Kallo Foods, the company behind organic brands like Kallo and Whole Earth, is upbeat about the business's future. Sitting in Kallo's offices in the Hampshire town of Blackwater, he outlines to just-food what he has changed at the company since he took over in September last year.
"As a business probably we've been quite unfocused," Cairns says. "Like a lot of businesses that have come out of the health food trade, we had broad ranges of products." In the last 15 months, Kallo, he says, has "been through quite a big rationalisation exercise". Smaller SKUs or unprofitable lines have been removed from the company's portfolio and a decision was made to focus on savoury biscuits, dairy alternatives, spreads and stocks and gravy. "Everything else," Cairns says, "we're going to manage quite tactically."
The company has "invested heavily in category insight and product development", Cairns explains and, although he declines to put a number on that investment, says it is "four times what we've ever invested." Kallo, he says, recognised it needed to become experts in the categories it operates in. "We can't go into markets and just deliver an organic or natural version of what is already there. We need to have more insight into the category and develop real innovation that is going to be relevant."
The insight Kallo has gained - and perhaps Cairns gained in his previous role as CEO of UK baby-food maker Plum Baby - is that it does not always pay to emphasise the organic credentials of your products, particularly in a market where consumers have not bought into organic across the board. Baby food - along with milk - has been a sector where organic sales have held up during the downturn. Cairns says that is due to, in part, the price differential between organic and conventional products being "marginal". However, he indicates that the new, refocused Kallo - the company of organic rice cakes and stock cubes - will only emphaise organic where it believes it will work.
"Not all of our products are organic but all of them are natural and use natural ingredients. We will leverage organic where it is relevant and where the premium is justified. In other markets, we'll just use natural ingredients," he says.
During the downturn, the UK organic sector, looking at the resilience of the category in countries like France and Germany, has questioned why the market on this side of the Channel has proved so challenging. Some have argued that consumers do not really understand what organic stands for, especially in comparison to other so-called ethical categories that demand a price premium like Fairtrade, in which sales have soared despite falling consumer income. Combine consumer uncertainty over what organic means with the price premium and, so the argument goes, you have a recipe for falling sales.
Cairns understands the argument about price but is unsure that consumers misunderstand the meaning of organic. "I think people understand what organic is, it's just not always relevant to them," he says and argues that, in the UK, organic has become part of a "long-term trend towards healthier, more natural foods" rather than something that consumers demand in itself, at least not to the same level in France and in Germany. This, Cairns contends, has discouraged UK retailers from building an organic category to the same degree to their counterparts on the Continent. "For the UK consumer, organic and natural is part of the overall welfare they want from their product. It's not enough in itself. These are quite mainstream needs that people have. In the UK, it's a much broader them rather than being a specialist need."
Consumers in the UK, Cairns says, are thinking about more "mindful eating". Diets, he explains are "less aggressive" and there is a "deep interest" in the provenance of food and "the sort of company that is behind the products".
However, Cairns, a man with a decade of marketing experience at Unilever, emphasises the importance of brands and says Kallo's marketing will focus on its namesake brand and Whole Earth. He describes Kallo, for one, as "quite a low-key brand", one that consumers "remember in the back of their head". Cairns says he wants to bring the Kallo brand "to the front of people's minds" and "make it a sort of Dorset Cereals, where people think about the brand". Expenditure on brand marketing will, he says, increase by 25% next year, although he again declines to put a specific figure on the investment.
Cairns answers all questions as openly as he can but much of his reticence of numbers stems from the fact that Kallo is a subsidiary of Dutch food group Wessanen, which rarely provides financial information on operations in specific countries.
Wessanen made losses of over EUR6m in 2010 but that was far less than the EUR219.7m recorded in 2009, a year when the company had problems with its debts and recorded impairment costs. 2009 and 2010 were years in which Wessanen decided to refocus its business - in 2009, it said it would quit the US and a year later stated its ambition to become the "organic food champion in Europe". Last month, Wessanen recorded third-quarter net profit of EUR8.1m - an indication that the company is near recovering from its issues of two or three years ago.
Cairns, a Wessanen senior vice president and a member of its management board, says there are similarities between Wessanen's decision to refocus its business and Kallo's similar moves. "There's much more focus behind the business, much more professionalisation, turning into a much more classic, FMCG, consumer-driven business," Cairns says of Wessanen. "I think historically it's been more of a trading business - buy stuff in one place and sell it somewhere else. To some extent, that's what Kallo's been in the past. We'll do anything that anybody wants, with products that are slightly generic.
"Our level of competitiveness is now really determined by the level to which we really understand what our consumers want and what our customers want, more than in the past which was 'what can we lay our hands on, how can we flog it'."
What does Wessanen make of the changes at Kallo and of the UK market more generally? Cairns says the company recognises the challenge of operating in the UK but sees the market is one where, perhaps, trends emerge earlier than in Europe. "[The UK] is recognised as a market where there aren't a lot of calm waters," Cairns says. "It's very concentrated in a small number of retailers. It's a very efficient retail trade. If you have products that aren't differentiated and not performing, you have nowhere to run to. In Europe, where maybe it's a slightly more fragmented trade you can get away with more but in the UK there is not a lot of room for that.
"You can't afford to be amateur in a lot of categories, you actually have to be a specialist in few. Within Europe, there's a general appreciation of that. Because of that, and where we are culturally somewhere between the US and Europe, I think there's a feeling that a lot of things happen here first. A lot of suppliers and a lot of companies that I know come to the UK to look for trends."
Not entirely unexpectedly, Cairns is reluctant to divulge too much about the financial performance of Kallo and its contribution to Wessanen's profitability. "This year, we've had a fairly consistent level of performance that we're quite pleased given the amount of refocus we've had in the business. We've taken out probably about 8% we've delisted, which was in very small SKUs or unprofitable lines. We've more than made that up in other areas and that is a very good place to start," Cairns says.
"I think there's a feeling probably overall that the process of refocus behind Kallo will allow it to be a very powerful driver of profitability going forward. At this particular moment in time, you probably have more companies within the Wessanen group that are probably at a more mature stage within that journey. The level of profit contribution is pretty static at a point where we are at a moment of refocus. We can see a pipeline very full of innovation for the next year."
Cairns is, in sum, quietly confident about Kallo's future. "We feel like we are in a very good space. Consumer trends are pointing in our direction." But wouldn't that make your categories very competitive? "That sounds like a growth market," he says.
Oops! This article is copy protected.
Why can't I copy the text on this page?
The ability to copy articles is specially reserved for people who are part of a group membership.
How do I become a group member?
To find out how you and your team can copy and share articles and save money as part of a group membership call Sean Clinton on
+44 (0)1527 573 736 or complete this form..