"You needed a crazy guy who was prepared to disrupt" - Finnebrogue founder Denis Lynn on shaking up the bacon category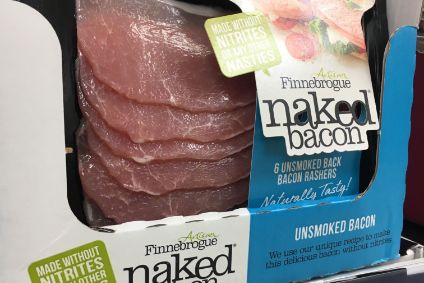 Finnebrogue's Naked Bacon product
Andy Coyne speaks to Denis Lynn, the founder of Northern Ireland-based food group Finnebrogue Artisan, about disruption in the bacon category and his meat-free ambitions.
UK food group Finnebrogue Artisan has disrupted the bacon category once, with its nitrite-free Naked Bacon, and now it plans to do so again.
Founder and chairman Denis Lynn is confident he has discovered the Holy Grail of a meat-free bacon that actually tastes good.
"Vegetarian or vegan bacon has not been nailed yet in terms of succulence, texture etc. but I think we've done that," he says.
County Down, Northern Ireland-based Finnebrogue's competitors will be sure to take note given the impact Naked Bacon has had on the category.
Its success has helped Finnebrogue grow to a company with 600 employees across three facilities and an annual turnover of GBP115m (US$149.8m).
Disruption is something Lynn has been doing for many years and he shows no signs of running out of steam when it comes to inspiration or the perspiration needed to put his ideas into practice.
The company was founded in 1985. Lynn started off selling pizzas and pies out of a white van before discovering a new way to make French fries. This led to Lynn becoming the largest customer for Lord Chips in Europe and he used the money he made to buy the Finnebrogue estate in the countryside near Downpatrick in 1991.
Once ensconced he looked around for a new venture.
Given what he has achieved since, it is tempting to think that the health of people and the planet were always on his mind but he says not.
"What happened wasn't about health and what was good for the planet but trying to understand how to make things better, as I had with frozen chips," he says.
"All my life I have tried to make something slightly better than it was yesterday."
In the mid-1990s the next big idea was venison. Against a backdrop of BSE and beef being out of favour, this alternative protein source proved to be as popular as Lynn hoped.
"We built the largest deer farm in Britain and built a slaughterhouse. We were supplying Heston Blumenthal and other top chefs in London, Dublin, Belfast and even New York as well as the likes of [retailer] Marks and Spencer," he says.
"In the past we have been told we were best known for our venison and then it was our sausages and now it's our bacon, which I suppose proves that we are into moving on and being innovative."
At the heart of what Finnebrogue does is farming and it was an easy next step for the company to move from venison into sausages.
The Naked brand was born, the name reflecting the lack of additives and allergens in these premium 'bangers' and other sausage brands followed: The Good Little Company, which donates a portion of the money from sales to good causes in Malawi; and Rankin, a range formulated with local celebrity chef Paul Rankin.
Supermarket groups in the UK started to take note and now Finnebrogue has a lucrative business making own-brand sausage for large retailers.
"In pork sausages terms, we make all of Marks and Spencer's sausages and all of Asda's top tier and also a lot of Christmas products," he says.
However, despite a healthy business producing sausages, Finnebrogue had never created a slice of bacon.
"People started asking us why we didn't make bacon as well. We looked at it for years before we decided to do it," Lynn says.
The reason why Lynn took so long before deciding he needed skin in this particular game was the thorny issue of nitrites.
Nitrites are added to processed foods, most famously bacon, to preserve and give them a longer shelf life. Scientific reports have continually linked nitrites to cancer.
A World Health Organization announcement from 2015, for example, said processed meats were classified as a group 1 carcinogen, meaning scientists were certain there was "sufficient" evidence they caused cancer, particularly colon cancer. The warning applied to bacon as well as foods including Italian salami, Spanish chorizo and German bratwurst.
And yet five years on most bacon you will find in the supermarket contains nitrites, the food scare dismissed by retailers and consumers as many have been before and since.
But not Lynn. When he launched Naked Bacon in 2018 it was marketed as a nitrite-free product.
"It [adding nitrites] was clearly a health risk and one I was not prepared to take," he says.
"For two or three years before we launched nitrite-free bacon, the technology was available in the UK. But you had to be disruptive to yourself to do it. You needed a crazy guy who was prepared to disrupt it.
"But what we did was a good thing and I would do it again. These nitrites are killing thousands of people a year.
"It [Naked Bacon] has became the largest bacon brand in Britain within two years. We will not stop building this brand."
Lynn is a passionate believer in the Naked Bacon product and the reason for its launch but getting the brand into the shops was not all plain sailing.
"The response from UK retailers has often been really welcoming and very supportive but it is on a person by person basis. Some have blocked it because they think they might do damage to their other products," he says.
"It differs from person to person at the buyer and category manager level. Some have them have had to be dragged kicking and screaming.
"But the reality is that standard bacon was in serious decline and had been since the 1950s. What we are doing has helped to stop this and redress the decline. People have gone back to bacon who had given up on it.
"If you don't solve the problem you are toast. It's about understanding where food needs to go. The possibilities are massive."
So why, by and large, haven't the competition followed Finnebrogue down the nitrite-free bacon route?
"I'm not really surprised. It's about a few large groups protecting their position," he says.
"We have exclusivity on the tech in the UK but we have offered to share it with other companies. Perhaps the fact Naked is out there puts them off."
Finnebrogue announced last March it was investing GBP17m in a new bacon processing plant, creating around 125 jobs with the move. It said at the time it hoped to hoped to grow sales of the Naked Bacon brand to GBP23m by 2022. While not providing a current sales figure for the brand, Lynn suggests that target is already within reach.
Alongside its Naked brand, and the others already mentioned, sits the meat alternative Veggie brand. The company opened a new vegetarian and vegan production facility in early 2019 at the cost of GBP3m.
Does Lynn see any contradiction in a business built on meat now preaching from the veggie pulpit?
"There's no conflict at all," he says. "At the end of the day we are a group of people trying to come up with solutions to problems. It's not a religion, it is a way of trying to create higher quality food without causing massive damage to the planet.
"Each product needs proper scientific life cycle analysis to see what damage it is doing to the planet. If you don't start with reality it's fundamentalism."
Which brings us back to Lynn's next project - meat-free bacon.
"I think we have created a way of making sausages and other products that is quite unique and a lot of consumers agree with us. We've got a recipe that really works in protein," he says.
"This [meat-free bacon] is very much in the development side but it's massive.
"We've not launched this yet but it will frighten everybody."
No launch date has yet been announced for Finnebrogue's meat-free bacon but Lynn is unlikely to be influenced in this regard by any developments linked to Brexit, the UK's departure from the European Union.
"I couldn't care less what politicians do," he says.
"We need consumers and manufacturers to drive change rather than waiting for legislation.
"We will react to whatever is thrown at us."
Oops! This article is copy protected.
Why can't I copy the text on this page?
The ability to copy articles is specially reserved for people who are part of a group membership.
How do I become a group member?
To find out how you and your team can copy and share articles and save money as part of a group membership call Sean Clinton on
+44 (0)1527 573 736 or complete this form..