Brexit - Irish food sector sets out concerns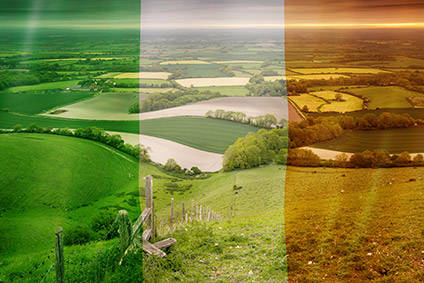 Kelly called Brexit "by far the most significant political challenge" facing Ireland
Food companies operating in Ireland exporting to the UK are already being hit by the drop in the value of sterling but the Irish food industry could face a range of other challenges from Brexit, the head of the country's trade association has warned.
The UK is the Irish agri-food sector's largest export market, accounting for 41% of the GBP9.5bn (US$11.84bn) in export revenues the industry generated last year.
Research published in April by Teasgasc, Ireland's Agriculture and Food Development Authority ahead of the UK referendum, suggested Brexit could lead to a 21% reduction in exports of all Irish goods across the Irish Sea at best. At worst, exports could fall by 57%. Under that worst-case scenario, Ireland could, the research suggested, see its agri-food exports reduced by up to 8%.
Speaking at a conference in London on Tuesday (1 November) on the impact Brexit could have on the Irish agri-food industry, Paul Kelly, the director of Food Drink Industry Ireland, described the result of the UK referendum as "by far the most significant political challenge facing the country". One in eight workers in Ireland, Kelly noted, are "associated with agri-food" through employment in food manufacturing and agriculture.
Kelly said the Irish agri-food sector needed "support" from the country's government as manufacturers faced the "difficulties around currency". However, Kelly pointed to two other issues he thought were "bigger" - the potential for tariffs once the UK leaves the EU and how UK and Irish manufacturers have configured their supply chains with both countries in the trading bloc.
"The bigger issue is two-fold. One is the whole issue of tariffs. That has the potential to introduce significant costs depending on what the level that's set if [the UK and the EU] do reach agreement. There is the ability to get any cost recovery in the marketplace but I think that will be hugely disruptive at a consumer level," Kelly told the conference, which was convened by UK trade association the Food and Drink Federation. "The much more important is, if you look at how businesses operate, it's not just north-south, it is east-west as well. Very, very integrated and complex supply chains. It's not just finished goods, there's a lot of intermediates, a lot of intra-company transfers taking place," Kelly said.
Kelly said "a lot of companies, particularly the medium to larger companies" have "tended to consolidate their manufacturing on a smaller number of sites" to enjoy scale when competing against similar-sized businesses in Europe and when doing business with large retailers and foodservice companies. "That has all been underpinned by the Single Market," he said.
"Over the longer term, our preference would be to try and maintain as much unfettered access to the UK market as possible. That's a two-way street. We have a lot of members who are UK companies who are operating in Ireland. It's not just finished goods. There's a lot of intermediate products. We are very much of the view that UK access to the Single Market would be preferable to say third-country trade agreements. And that soft border - north-south in particular but also east-west - is hugely important to us."
Upon Brexit, the border between the UK and the EU will in effect be that between Northern Ireland the Republic of Ireland. The question of what kind of border develops once the UK leaves the EU is set to be one of the major talking political and industrial talking points between Dublin and London.
Kelly said the imposition of a hard border was "possible" but said he "imagined there would be certain political ramifications that would come from that". He said: "The practical issues around something like that need to be borne in mind. It is worth bearing in mind that there is quite a common labour market, not just north-south but between the two islands. If I put on the wider business perspective, there will be a lot of movement of people. Flexibility of movement will be very, very important."
Kelly, meanwhile, used the example of milk to highlight the links that exist between parts of the food sector in the Republic of Ireland and the industry over the country's border with the UK in Northern Ireland. Brexit, he argued, could lead to challenges in meeting certification requirements in third countries.
"The milk example is a very good one. We pretty much have a mixed milk pool north and south. About 10% of our milk is liquid milk and 24% of that comes from the north. A significant proportion of our manufacturing milk comes from the north as well. When you get down into the technicalities of it, it's not just tariffs. It's things like, say, origin. When we have, say, infant formula, which is exported to China, the certification we would have with the Chinese authorities relates to EU milk from Ireland but we're going to run into all sorts of problems if that's a combined EU and non-EU milk," he said.
Kelly, who was speaking on a panel at the FDF conference was asked by the organisation's director general, Ian Wright, about the potential of politicians in the UK's devolved parliaments looking to pass regulations that created a more "uneven" system of legislation across the Union.
Reflecting on the question, Kelly said the question of "regulatory divergence" was already an issue in the EU and would be "one of the major problems in years to come". He pointed to recent moves by some EU member states to introduce country-of-origin labels on foods. "The French with their mandatory country-of-origin labelling and, since they have managed to get that through the Commission, other member states, the Portuguese and so on, have popped up with similar proposals. There's a mood for that type of approach across Europe and it's not just confined to this part of Europe," Kelly said.
Kelly also suggested the food industry could, over time, see standards diverge, which could lead to extra costs on business.
Sectors: Allergen-free, Baby food, Bakery, Canned food, Cereal, Chilled foods, Condiments, dressings, sauces & spreads, Confectionery, Dairy, Dried foods, Fresh produce, Frozen, Ice Cream, Meat, poultry & eggs, Organic, Private label, Seafood and seafood alternatives, Snacks
Companies: Food and Drink Federation
Oops! This article is copy protected.
Why can't I copy the text on this page?
The ability to copy articles is specially reserved for people who are part of a group membership.
How do I become a group member?
To find out how you and your team can copy and share articles and save money as part of a group membership call Sean Clinton on
+44 (0)1527 573 736 or complete this form..