New products - Nestle debuts plant-based DiGiorno, Stouffer's duo; Kellogg to-go granola bowls, All-Bran Prebiotic; Soylent marks UK grocery bow; General Mills dairy-free Oui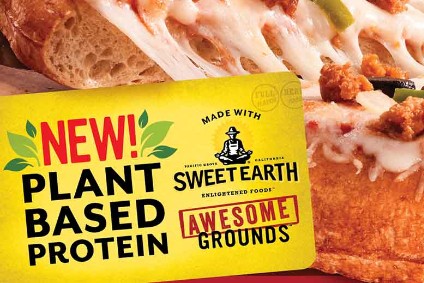 The new products will launch in the spring
The new products we picked out this week include plant-based pizza and lasagne from Nestlé, dairy-free yogurts from General Mills, and Soylents UK grocery entry.
Nestle rolls out plant-based DiGiorno pizza, Stouffer's lasagne
Nestlé is launching plant-based pizza and lasagne through its DiGiorno and Stouffer's brands in the US.
The products incorporate meatless ground beef made by Sweet Earth, the US-based business Nestlé acquired in 2017, under its Awesome range of plant-based alternatives, which includes mince and burgers
DiGiorno Rising Crust Meatless Supreme Pizza and Stouffer's Meatless Lasagna will launch in the spring.
John Carmichael, president of the foods division at Nestlé, said: "There's no denying the current modern food movement is revolutionising the plant-based space. By adding Sweet Earth Awesome Grounds to Stouffer's and Digiorno offerings, we're able to offer our customers the chance to incorporate plant-based meals into their diets while still enjoying the same convenience and delicious flavour of brands they know and trust."
Kellogg to-go granola smoothies bowls, All-Bran Prebiotic
Kellogg is introducing granola smoothies in the UK to cater to on-the-go shoppers, along with a prebiotic range under its Happy Guts brand.
The 'Kellogg to Go' range includes a Crunchy Nut hazelnut and chocolate granola smoothies bowl and a Special K protein granola smoothie bowl. There will also be three portioned toppers available: Kellogg's Crunchy Nut hazelnut and chocolate granola, Protein Special K Re d berries, and All-bran berry crunch.
Both products will arrive in stores in February across all retailers at a recommended retail price of GBP1.59 (US$2.08) for the granola smoothie bowls and GBP0.60 for the toppers.
Also from Kellogg, the US-based food major is launching two flavours of All-Bran Prebiotic - All-Bran Original Prebiotic and All-Bran Almond and Pumpkin Seed Prebiotic. They will hit shelves in January, again in all retailers.
Each 380-gram pack will retail for GBP2.99 ($3.92).
All-Bran Prebiotic is said to contain almost 40% of the recommended daily allowance of fibre (11g) and fit's in with Kellogg's push on lower salt and sugar.

Soylent makes UK grocery bow with Sainsbury's deal
Soylent Nutrition, the US-based meal replacement drink firm, will see its product appear on UK supermarket shelves for the first time after agreeing a deal with 'big four' grocery chain Sainsbury's.
Until now the products have mainly been available online but two variants of its drinks - Cacao and Vanilla - are to be sold at nearly 100 Sainsbury's stores with a RRP of GBP3.49 (US$4.58) per bottle.
A four- to six-month trial will be reviewed for additional roll-out across the country.
Soylent's Melody Conner said: "The Sainsbury's partnership for us is really exciting. It supports the category growth in the UK but also the retail focus for Soylent moving into 2020.
"We are excited to engage in-store with new consumers who are either trying Soylent for the first time or trying a new flavour of Soylent."
General Mills expands Oui by Yoplait into plant-based
US food group General Mills has unveiled its "first premium plant-based, non-dairy option" in its domestic market in the shape of Oui Dairy Free Coconut Dairy Alternative.
The product, under its Yoplait brand, is made with a coconut base and paired with flavours such as vanilla, strawberry, mango, and raspberry to "deliver a creamy and indulgent taste experience".
Currently in limited release, Oui Dairy Free will be widely available in January.
General Mills has also launched Oui Creme Dessert under the Yoplait brand.
Described as a "creamy and indulgent take on crème fraîche it comes in a glass pot and is available in Caramel Cream, Lemon Tart and Vanilla Bean varieties.
Jack Link's launches Peperami Beef Bar in UK
US meat-snacks group Jack Link's has launched a new beef bar under its UK brand Peperami.
The 20g Peperami Beef Bar - available in Original flavour - is said to offer "a meaty blend of beef and pork in a convenient bar format, giving consumers a portable, protein-packed snack that is ideal for satisfying afternoon cravings, or a pre- or post-workout protein essential".
Pavan Chandra, marketing manager at Peperami, said: "We are excited to expand the Peperami portfolio and introduce our new Peperami Beef Bar to the category, providing consumers with a convenient protein kick."
Peperami Beef Bar is available in Tesco, Asda and Sainsbury's with a RRP of GBP2.75 (US$3.57) for a multipack (3x20g). In convenience stores the single 20g bar is available for GBP0.99.
Jack Link's already offers Beef Strip Bars under its eponymous brand but a spokesperson for Peperami said the strips have a different ingredient profile, using 100% beef in comparison to the Peperami bar's blend of beef and pork.
Upfield Foods rolls out plant-based Elmlea cream
Flora spreads owner Upfield Foods has launched plant-based cream in both single and double formats to fill a gap in the UK market for dairy-free alternatives.
Made with 100% plant-based ingredients, including broad beans, Elmlea is now available in Sainsbury's and Asda at a recommended retail price of GBP1.00 (US$.130) for the 270-ml single-cream variant and GBP1.10 for the double.
Netherlands-based Upfield said Elmlea is certified as vegan, and is free from lactose and gluten.
David Salkeld, the chief executive of Upfield's UK division, said: "Since 2007, the number of people following plant-based diets has grown by a massive 350%. But despite dairy-free cream sales growing 35% year-on-year, there are very few dairy-free cream alternatives. We know taste and affordability are two of the biggest barriers to people eating more plant-based foods, which is why Elmlea is a complete game-changer in the hugely underserved dairy cream alternative sector."
Zeno Functional Foods rolls out 'alcohol-absorbing' Sobar protein bars
Zeno Functional Foods, a California-based start-up, has developed a protein snack bar that it claims reduces alcohol absorption.
Sobar has been developed using a proprietary and patented Alco-Hold technology formulated to keep alcohol in the stomach longer, with milk protein and insoluble oat fibre the main ingredients.
Zeno, which was founded by Dr Joseph Fisher, said Sobar "is the world's first food specifically designed and clinically evaluated to reduce alcohol absorption" in a study conducted by Inquis Clinical Research in Toronto, Canada.
The bars are available now in the North American market via the company's website and will launch on a "number" of online platforms in the next two months, Fisher told just-food. Retail distribution will start next year, most likely in the second half. It will also target markets in Asia, Australia and Europe further down the line.
Fisher said: "This research project started after I had too much to drink on an empty stomach at a wedding. After that experience I thought that there was a huge need for a specialised, low-calorie snack that could efficiently and effectively reduce alcohol absorption."
Meal replacement brand Huel relaunches bars
Huel, the UK meal-replacement firm best known for ready-to drink products, has relaunched snack bars.
It has launched Huel Bar v3.1, which is a plant-based product that is high in protein and gluten-free.
The range comprises four flavours - Salted Caramel, Chocolate, Chocolate Orange and Coffee Caramel. The 200-calorie bars are said to "contain all 26 essential vitamins and minerals".
Huel's bars are made using oat flour and rolled oats, pea and brown rice protein, cocoa powder, coconut, date syrup and flaxseed, to which vitamins and minerals are added.
The products will be sold via the company's website.
Sectors: Cereal, Chilled foods, Dairy, Dairy-free, Meat-free, Meat, poultry & eggs, Snacks, Vegetarian & vegan
Themes: Health & wellness, NPD & innovation
Companies: General Mills, Jack Link's, Kellogg, Nestle
Oops! This article is copy protected.
Why can't I copy the text on this page?
The ability to copy articles is specially reserved for people who are part of a group membership.
How do I become a group member?
To find out how you and your team can copy and share articles and save money as part of a group membership call Sean Clinton on
+44 (0)1527 573 736 or complete this form..