Quote, unquote – food industry reacts to Brexit trade deal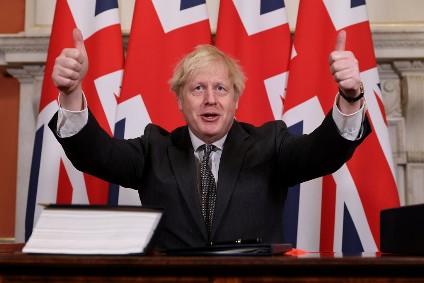 Johnson has claimed agreement was UK's "biggest trade deal yet, worth GBP660bn"
On Christmas Eve, the UK and the EU sealed a deal on trade between the two markets in the wake of Brexit. just-food rounds up a flavour of the industry and stakeholder reaction so far.
"We remain concerned about the impact of further border disruption in the coming days. The UK has secured an agreement with the EU that provides welcome outcomes in a number of areas but sadly fails to deliver on many urgent priorities for our industry. Exporters of food and drink from New Zealand to the EU market will from 1 January have easier access to the EU than those in Great Britain. These new product checks, limitations on haulier movements and the inexplicable requirement that businesses imports and exports must use costly heat-treated wooden pallets that aren't sufficiently available will each cause disruption to food supplies and must be addressed as a matter of urgency" – Ian Wright, chief executive of UK industry association The Food and Drink Federation, 31 December
"We must warn that stormy waters lie ahead for the agri-food sector – and for EU-UK trade in agri-food products worth around EUR48bn (US$58.76bn) – if we don't get the next part right. We all need to look at the detail of the agreement to understand the full implications, but it is essential for EU and UK authorities to move at lightning speed to ensure businesses understand the new trade requirements, that border controls can operate efficiently from January 1 and that the Commission has a crisis management protocol, including direct communications with agri-food chain operators, to identify and solve border issues as they arise over the coming weeks and months. Failure to move quickly will lead to more border chaos and supply chain disruption that will not only put thousands of jobs at risk, but also impact the safe supply of affordable agri-food products to consumers" – a joint statement from FoodDrinkEurope, the trade body for food manufacturers operating in the EU; Copa and Cogeca, which represent farmers and agri-cooperatives in the EU; and CELCAA, the EU umbrella association representing the trade in agri-food and commodities, 24 December
"Throughout the fishing industry there is a profound sense of disillusionment, betrayal, and fury that after all the rhetoric, promises and assurances, the Government caved-in on fish. This was a decision taken at the highest political levels and it is important that responsibility is taken for the choices made. This is no time for spin" – UK trade body The National Federation of Fishermen's Organisations, 26 December
"There'll be a little bit more administration associated with importing and exporting. But in absolute terms, I think that will hardly be felt in terms of the prices the consumers are paying" – Tesco chairman John Allan speaking to the BBC, 27 December
"Given that four-fifths of UK food imports come from the EU, today's announcement should afford households around the UK a collective sigh of relief. The UK and EU Governments have taken a crucially important step in agreeing a zero-tariff agreement, to the benefit of customers all over Europe. They must now work to implement this new arrangement as soon as possible, ensuring there are no tariffs from day one, and finding new ways to reduce the checks and red tape that we'll see from the 1st January" – Helen Dickinson, Chief Executive of UK retailers' association The British Retail Consortium, 24 December
We haven't seen the text (disclaimer) but nonetheless here is my pre-Christmas thread in reaction. This is a #hardBrexit deal (by design) and that means for food it is hardest of all. No rabbits out of the hat - the UK gov have followed through on their stated intent...1/

— Shane Brennan (@ColdChainShane) December 24, 2020
"As was the case when the Withdrawal Agreement was agreed, this deal is welcome insofar as it takes us from the cliff edge – but it is far from perfect, and we still need clarity on a number of key areas. If the Northern Ireland protocol is to be durable, the UK and EU will need to address the challenges to local consumers of reduced choice and increased cost as a result of new administrative burdens on Great Britain–Northern Ireland trade. Additionally, we need a fair arbitration system to be in place from day one as there will be errors and teething problems as we come to terms with new procedures, and we want to minimise waste" – Nick Whelan, chair of the Northern Ireland Food and Drink Association
"The agreement is welcome as disastrous tariffs have been avoided but the agreement reached is still very much a hard Brexit. Food and drink companies will face substantial non-tariff barriers to trade between Ireland and Great Britain with customs, SPS and other food safety requirements in a few days' time. This will lead to substantial ongoing costs which will have to be absorbed not just by the food supply chain but by consumers as well. Reaching agreement on measures to ease and facilitate customs and SPS requirements should now be a priority for both sides. This is the only way to reduce trade friction and limit the costs passed onto the food chain and the consumer" – Paul Kelly, director of Food Drink Ireland, the food-manufacturing trade body in the Republic of Ireland, 24 December
Some thoughts on the skinny Sanitary & Phytosanitary terms of the ????????TCA Agreement that will result in significant barriers to trade.

While the Chapter introduces world-first language on the 'softer' issues, it goes little beyond the WTO SPS Agreement on the rest ????

— Emily Rees (@emilyrees_eu) December 27, 2020
"A deal has emerged ridiculously late in the day and there is a huge amount of detail to assess. However, this will ensure we avoid crippling tariffs of up to 80% on some of our key food exports. That is good news. With four working days until the end of the year, there are around 2000 pages of detail to analyse. There is already grim news emerging for seed potato exports to Europe, important to Scotland's farmers. They now look blocked from 1 January. The phrase 'free trade' certainly won't apply to them" – James Withers, chief executive of industry body Scotland Food & Drink, 24 December
"We welcome the agreement which is a positive outcome for Arla, as it removes the significant risk from a hard Brexit for our business. We have been lobbying over the past three-and-a-half years for both sides to agree to a free trade agreement which supports zero tariffs and no quotas on the trade of dairy and this deal delivers this. We have a range of plans in place and will be going through the details of the new agreement over the coming days to fully understand how it will impact our business, our people and our owners. But it is critical that the deal is in place for 1st of January and fully ratified as soon as possible and we will be working closely with our industry organisations and the UK and DK governments to get the clarity we need to ensure we can continue to operate under the new trading regime" – dairy giant Arla Foods' UK arm, 4 January
"As regards the Brexit Deal of course we were, like everybody else, frustrated that it took so long and there was little clarity for too long. Having said that, Ecotone are very pleased that an agreement with no tariffs and that included equivalence for organic certification was finally reached as it ensures we can continue the strong growth on some of our key brands such as Clipper and Whole Earth in the UK and across continental Europe" – Klaus Arntz, chief marketing and sustainability officer at Netherlands-based food manufacturer Ecotone (recently renamed from Wessanen), 3 January
"We do not expect any changes, as everything will remain more or less the same. We will have some more paperwork, but as we export globally we are used to handle this" – a spokesperson for Denmark-based meat co-op Danish Crown, 3 January
"Fifty-five per cent of our business is with EU countries so this was really important to us and tariffs would have made things difficult. As it is there is still a lot of red-tape and added complexity, but this will now just impact our overheads rather than our margin and won't impede on our growth. We haven't yet studied all the details as relevant to us, but overall I think that if we have to come out of the EU, then this is the best deal we could have expected and we now have clarity and can move on" – Harry Thuillier, managing director of UK ice-cream firm Oppo Brothers, 1 January
"The tariff-free element will be a particular relief for farmers that rely heavily on the EU export market, such as our sheep farmers, as well as farmers across British agriculture that produce the safe, traceable and affordable food that underpins more than GBP14bn (US$19.12bn) worth of export sales each year to the EU. It does remain the case though that our relationship with the EU will experience a fundamental change at the end of the transition period on 1 January 2021 and we do anticipate that there will still be disruption to trade at the border. New checks, paperwork and requirements on traders will add costs and complexity" – Minette Batters, president of the UK's National Farmers' Union, 24 December
Sectors: Allergen-free, Baby food, Bakery, Cannabis, Canned food, Cereal, Chilled foods, Condiments, dressings, sauces & spreads, Confectionery, Dairy, Dairy-free, Dried foods, Fresh produce, Frozen, Ice Cream, Meat-free, Meat, poultry & eggs, Organic, Private label, Seafood and seafood alternatives, Snacks, Sports nutrition, Vegetarian & vegan
Companies: Arla Foods, Danish Crown, Food and Drink Federation, Tesco, Wessanen
Oops! This article is copy protected.
Why can't I copy the text on this page?
The ability to copy articles is specially reserved for people who are part of a group membership.
How do I become a group member?
To find out how you and your team can copy and share articles and save money as part of a group membership call Sean Clinton on
+44 (0)1527 573 736 or complete this form..