Blog:

A price point that is infinity and beyond

Andy Coyne | 30 November 2018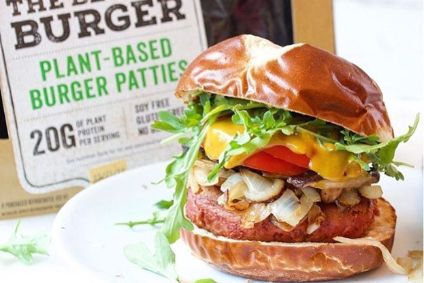 Beyond meat's Beyond Burger
Perhaps not since Halo Top ice cream (in those dim and distant days of January 2018) has a US food product been as eagerly anticipated in the UK as the Beyond Burger.
The vegan food business Beyond Meat's plant-based patty has been causing a stir in the States, with many suggesting it is the best veggie burger yet with a texture and taste that is difficult to differentiate from real meat.
Some US retailers are stocking the California company's burgers in the chilled counter alongside meat products.
It contains beetroot juice, which oozes out when cooked like blood in a top-quality meat burger.
The company has backers including Microsoft co-founder Bill Gates and Don Thompson, McDonald's former chief executive officer and is now planning to raise up to US$100m through a share sale.
The clamour for the arrival of Beyond Meat's signature product in the UK was enhanced further when its launch, due to be via Tesco in August, was postponed because, the US firm claimed, it was having problems keeping up with demand. A victim of its own success, you could say.
I was one of those eagerly awaiting its arrival and so rushed down to my local Tesco to buy a pack when they finally hit the UK market a few weeks ago.
Whilst I'm not a vegan, or even a vegetarian, I'm not a great fan of meat burgers and do like to tuck into a veggie burger now and again.
They are being sold in Tesco as frozen products and the first thing that struck me was the price - GBP5.50 (US$7.01) for two frozen patties. That's easily twice as much as most other frozen veggie burgers and also a significantly higher amount than you would pay for top quality meat burgers - Aberdeen Angus beef burgers, say.
Now I understand people are prepared to pay a premium for certain products - I do so myself on occasion - but GBP5.50 for two frozen burgers. Really?
And so onto the taste. Firstly I don't get the beetroot juice blood thing. It's a bit gimmicky. Meat eaters who choose to eat veggie burgers aren't doing so in the pretense that it's beef that they are eating and the last things vegans would want, I would imagine, is for their burger to remind them of the death of an animal.
I would say the burgers taste okay. The texture is good and the flavour is decent. Do they taste anything like meat? Not to me. But I guess if you put it in a burger bun with cheese, gherkins, onions, sauce and mustard it could do a fair impression of its meaty rival.
I have to say that I've had better veggie burgers - usually containing nuts or with spice added. But their manufacturers are concentrating on making something that tastes good in its own right, not something that is supposed to taste like meat.
So will they be a success in the UK? Hard to say. I think people will be curious to try them but I'd be surprised if they get added to many people's weekly shopping lists on a regular basis at the price at which they are being sold, especially with competition in the country's meat-free category intensifying.
I suspect getting them onto the menus of specialist burger joints is the way forward. When people are out eating they are used to paying quite a lot for a decent burger and the growth in that particular part of the restaurant sector is at the high end.
The Beyond Burger is already available through one upmarket burger chain in London.
As for me, I wish the company well but I think I'll stick with Asda Spicy Bean Burgers (GBP1.50 for four).