Blog:

Acquisitive JAB to gobble up UK food-to-go chain Pret

Dean Best | 29 May 2018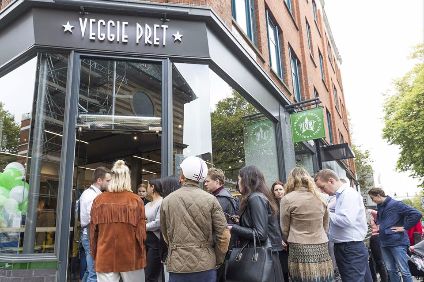 Pret's Veggie Pret mini chain has proved popular since launch
JAB Holding Co., the privately-owned, Luxembourg-based investment firm today (29 May) announced its latest acquisition, striking a deal to buy a majority stake in UK food-to-go chain Pret a Manger.
Terms of the transaction, which is expected to be completed this summer, were not disclosed in the statement issued this morning by JAB and Pret.
UK-based private-equity firm Bridgepoint acquired Pret a decade ago for EUR500m.
The purchase of a majority stake in Pret, a foodservice chain present in the UK, France, Hong Kong, China and the US is the latest to be made by JAB, which handles the fortune of Germany's Reimann family.
Most of JAB's investments have been in or linked to the coffee sector, with moves US coffee business Keurig Green Mountain last year.
JAB also owns or has majority stakes in US coffee chains Peet's Coffee and Tea and Caribou Coffee, as well as US coffee and bagel purveyor Einstein Noah, plus doughnut and US coffee chain Krispy Kreme.
The investment firm is also the entity behind the creation of Kenco owner Jacobs Douwe Egberts.
In January, JAB announced a deal to merge Keurig with US-based soft-drinks supplier Dr Pepper Snapple Group to broaden its interest in beverages.
The move for Pret is JAB's first for a UK-headquartered business and it also gives it another asset for which coffee is a central component of its offer.
The UK's foodservice market is a challenging place to do business at present, with a number of high-profile chains closing outlets.
However, market researchers Euromonitor believes Pret has prospered through a focus on some of the hotter trends in the market.
"British consumers are demanding greater flexibility regarding menu options, including more vegan, vegetarian and gluten-free options. Outlets with a strong focus on each or all of these dietary requirements have strong growth prospects. The success of Pret A Manger's vegetarian brand, Veggie Pret, is testament to this," Euromonitor said.
"Originally intended as a pop-up, the brand has proven popular among consumers, with Pret a Manger consequently expanding the initiative. A number of brands will continue to circumvent the aforementioned difficulties facing the industry. While a range of factors are contributing to a difficult trading environment, companies have leveraged strong brands and aligned business models with consumer trends, resulting in remarkable growth. Brands that have significantly over-performed include Pret a Manger, US burger chain Five Guys and dessert chain Creams."
The move for Pret will also be closely watched by Nestlé, which has seen JAB become its closest challenger in coffee, with the food giant striking its own transactions in the coffee in recent months.