Blog:

Ad land: Mrs Kipling's TV debut; Paddington lured back to marmalade

Dean Best | 1 March 2010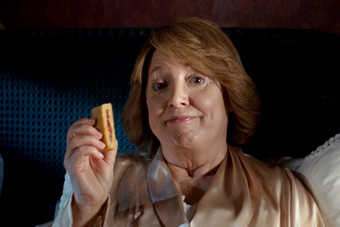 Mrs Kipling takes her bow
A couple of amusing tales have emerged from ad land today (1 March).
First, TV screens in the UK will soon see what Mrs Kipling looks like in the flesh in a new campaign for Premier Foods' cake brand Mr Kipling.
The Mr Kipling brand is among Premier's five "drive" brands and categories that the UK group believes will drive growth at the company.
Mrs Kipling's identity has, until now, been kept under wraps but the UK's largest food maker is allowing the cake maker's good lady wife make her TV debut to plug its Oatibakes range, which was first launched in January.
Premier, meanwhile, has also lured back Paddington Bear to marmalade after a couple of years of munching on Marmite.
The TV character will from tomorrow be the "face" of the Robertson's Golden Shred marmalade after a stint plugging the Unilever brand.
Premier said the use of Paddington made "perfect sense" amid the consumer trend for nostalgia. The company is also hoping the signing of Paddington will take its marmalade products to a "younger audience".
Unilever, meanwhile, issued an impish goobye to Paddington as he returned to marmalade.
"We said farewell to Paddington and sent him off on his travels with his suitcase full of Marmite sandwiches," a spokesperson said.
"It seems fitting that a bear as prone to mishaps as Paddington should turn up at Robertson's after developing such a savoury tooth."
One key questions remains, however: did Paddington love Marmite? Or hate it?