Blog:

Ahold launches German assault

Dean Best | 13 September 2012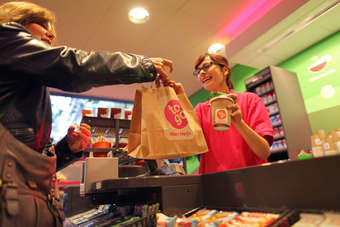 Ahold opened first store in Germany yesterday (12 September)
Ahold has opened its first store in Germany, a convenience outlet modelled on the newest AH To Go concept it has in its own market. And the Dutch retail giant tells just-food it has plans for ten more of the stores in Germany in the next year.
The retailer outlined plans to move into neighbouring Germany last August and yesterday (12 September) opened its first store in the country in the city of Aachen.
Ahold's current management is more cautious than regimes of 15 to 20 years ago when it comes to international expansion but the new AH To Go store in Germany follows its foray into Belgium last year.
Germany is renowned as being one of the toughest retail markets in the world and international retailers have struggled, including Wal-Mart which quit the market in 2006.
Nevertheless, Ahold sees potential. A spokesperson for Ahold's German business said the goal is to open "ten stores in the next 12 months".
The retailer believes the convenience sector in Germany is a "niche" it can exploit.
"The convenience market is poorly developed," she says. "There are not many comparable concepts to AH To Go."
---