Blog:

All eyes on Morrisons

Dean Best | 12 March 2014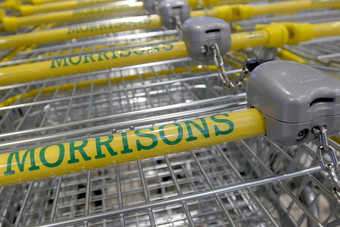 Morrisons has had a tough year
Morrisons will come under the investor spotlight tomorrow (13 March) when the UK's fourth-largest grocer reports its annual results. One stockbroker has "rarely been so concerned" going into a set of full-year numbers. And the latest data from Kantar Worldpanel has shown another decline in Morrisons' sales.
Sales at Morrisons dropped 3.2% in the 12 weeks to 2 March, Kantar Worldpanel reported yesterday, with the retailer's share of the UK grocery market sliding from 11.8% a year ago to 11.1%.
Morrisons was not alone in reporting falling sales - Tesco saw its sales drop 0.6% year-on-year - but the data underlined the challenge facing the grocer as it tries to look forward after a challenging 12 months - a period when there has even been takeover speculation swirling around the company.
The nervous stockbrocker, Shore Capital, said the decline in sales will put pressure on Morrisons' profitability, with the retailer's operating model including a series of integrated manufacturing businesses.
"Morrisons' sales have been falling at an increasingly concerning rate in recent trading periods, with the implied contraction in a large operationally geared business implying further material downgrades to our profit forecasts," Shore Capital analyst Darren Shirley says.
And the stockbroker has indicated the pressure on Morrisons' profits could continue into the new financial year - and further out.
"The sustained (and accelerating) decline in in-store volumes is being compounded by the high levels of vertical integration, with circa 25% of volumes passing through the group's considerable manufacturing facilities. That vertical integration implies further accentuated pressure on margins from negative operational gearing, and so we foresee the scope for further substantial post results downgrades for FY2015 and beyond."
Some industry watchers believe Morrisons could, in a bid to fight back against discounters that have eaten into its sales, outline a series of bold moves on price. However, that in turn could put pressure on Morrisons' margins.
Morrisons could also tomorrow outline the results of a review of its property estate, although Shirley expects only "modest disposals of largely non-core assets".
The retailer, he says, should act in six areas - including being "assertive" on price - to try to improve its performance.
Shirley argues Morrisons' should also look to "be the cheapest fresh produce player in the market", bring back brands in areas like ambient and household and "reposition under-performing private label".
The Shore Capital analyst also argues Morrisons should "scrap" its online venture with Ocado. The stockbroking firm has never been a fan of Morrisons' tie-up with the online specialist and it believes the grocer's online business should be "fulfilled" from its stores.
It would be a surprise if Morrisons announced the end of the Ocado agreement but industry watchers will be expecting the retailer to make moves on price.
Keep your eye on just-food tomorrow for coverage of the results.