Blog:

Annoyed M&S boss Bolland brushes off questions over his position

Dean Best | 21 May 2013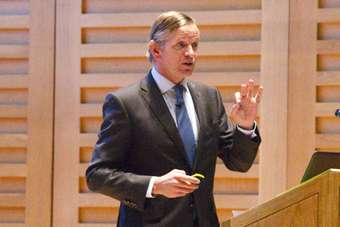 Bolland insisted M&S was "delivering" on its strategy
In some areas, notably food, Marks and Spencer is performing well. However, the UK retailer attracts scrutiny like few others in the consumer sector and, today (21 May), after reporting another year of falling profits, chief executive Marc Bolland faced media questions about his future.
M&S booked a 6.5% drop in net profit to GBP458m for the year to 30 March. Higher operating and finance costs weighed on M&S's bottom line, as did the expected fall in annual sales of general merchandise. Adjusted pre-tax profits were down 3.2%. It was the second year in a row M&S had booked falling earnings.
Bolland, the former boss of rival UK retailer Morrisons, joined M&S in 2010 and has been dogged by media and analyst criticism over his strategy for general merchandise, which has fallen in the retailer's last two financial years. The pressure has grown over the last 12 to 18 months as M&S's clothing business has faltered. In the year to 30 March, results for which were issued today, general merchandise like-for-like sales fell more than 4%.
While food ticks over nicely for M&S, the retailer is hoping its new autumn and winter wear collections can boost its clothing business.
Speaking to reporters in London today, Bolland was asked, first, if he would accept his bonus for the year and, more pointedly, what he thought of comments from investors that he had 12 more months to demonstrate progress in clothing.
The M&S boss refused to be drawn on his bonus, pointing out the information on his remuneration would be published next month.
However, he was rattled by suggestions some shareholders thought he had a year to show M&S was moving in the right direction.
"The time-frames are irrelevant. We are delivering this plan, we're delivering it very consistently," Bolland said. "I've always said it's a big job. It's a difficult job to see through. I'm prepared for it because I like a job like that."
CFO Alan Stewart supported the M&S boss and insisted the retailer's underlying profit performance was flat, once one-off items, as well as ongoing investment, was excluded from the numbers.
"In terms of the results, the [adjusted pre-tax profit] number is down 3% on a LFL basis. From my perspective the number is pretty flat year-on-year," Stewart said.
He added: "The investors we have spoken to say we are abs behind this strategy, don't get distracted by things along the way."
A launch of a full online grocery service, meanwhile, does not appear to be part of that strategy.
Bolland said M&S has "no plans" to expand its limited online ordering service to home delivery.
After last week's announcement of a deal between Morrisons and Ocado, M&S is set to be the only major UK grocer not to offer home delivery and there had been talk the retailer could look at extending its online party food, flowers and wine offer.
Bolland, however, argued the move would not fit M&S's food business. And that is a division that, for all the criticism of the retailer's general merchandise arm and questions over Bolland's future, remains robust.
---