Blog:

As US and Mexico set out bilateral deal, eyes turn to Canada - and dairy

Dean Best | 29 August 2018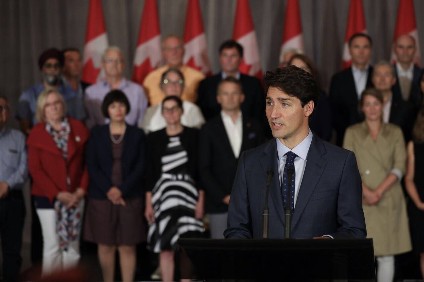 Trudeau standing firm on Canada'sdairy supply management
After months of talks over the future of the NAFTA trade agreement, two of the signatories - the US and Mexico - have outlined plans for a new deal, with the third, Canada, so far outside the process.
On Monday, the US said it and Mexico had reached a preliminary "modernised" trade deal with Mexico as part of negotiations to revamp NAFTA, or the North American Free Trade Agreement.
US President Donald Trump had threatened to leave the NAFTA trade pact after 24 years because of US trade deficits with both Mexico and Canada unless he secured more favourable terms to protect US manufacturing and prevent jobs from going overseas.
However, while the US and Mexico on Monday set out a plan for a new bilateral deal, Canada has yet to come on-board and one Canadian industry at the centre of talks in recent months between Washington and Ottawa - dairy - is watching the situation closely.
"We will continue to advocate to ensure Canadian dairy farmers not be negatively impacted as a consequence of any trade agreement," Pierre Lampron, president of Dairy Farmers of Canada, the lobby body for Canadian dairy producers, said.
The Canadian dairy industry has been concerned about the country's system of supply management, which coordinates production and demand, while controlling imports, as a means of setting what it sees as more stable prices.
The office of Canadian Prime Minister Justin Trudeau said he had had a "constructive conversation" with Trump since the deal with Mexico was announced.
However, speaking to reporters yesterday, Justin Trudeau, Canada's Prime Minister, said he would continue to defend the system. "My position on defending supply management has not changed," he told reporters, according to Reuters.