Blog:
Can UK food sector avert talent shortfall?

Katy Askew | 12 September 2014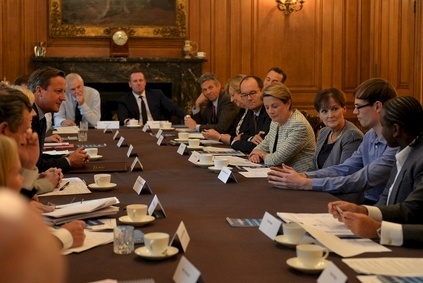 Cameron hosted roundtable including executives from Mars and Sainsbury's to discuss improving skills
The UK's food and drink sector is working to attract the "next generation of leaders" through efforts such as the Feeding Britain's Future initiative - but is this too little too late?
According to government figures, from field to fork the UK food chain is worth GBP97bn annually and employs 3.6m people. However, in order to support development, the sector needs to attract an additional 170,000 new recruits by 2020, industry body the Food and Drink Federation suggests.
In a bid to address this need, industry leaders from across the sector attended a roundtable event with UK Prime Minister David Cameron and Food Secretary Elizabeth Truss this week. Representatives from the likes of Tesco, Mars Inc and Warburtons - perhaps more used to facing each other across the negotiating table - joined the collaborative effort to tackle this talent shortfall.
According to the Government, progress is being made. The authorities are "helping support and expand the role of science and engineering in the sector" and "working with industry to help create new career pathways including apprenticeships and degree courses".
However, as just-food's Hannah Abdulla found earlier this year, young people are not attracted to a career in the food sector for a number of reasons. Competition from other engineering sectors is only part of the problem - a lack of food related subjects offered at a higher level and a history of poor of career development compound the issue.
Work is being done to overcome these issues and tackle any negative preconceptions young people may have around a career in the food industry. The Feeding Britain's Future campaign, for instance, offers practical advice and skills to over 40,000 unemployed young people and has launched workshops in schools to educate children about career prospects in the food sector.
But perceptions of what a future in the food sector means are likely to be slow to evolve. Can the industry effect change quickly enough to avoid the potential talent shortfall it now faces? If not, growth of one of the UK's largest manufacturing sectors could be affected.
Sectors: Baby food, Bakery, Canned food, Cereal, Chilled foods, Commodities & ingredients, Condiments, dressings & sauces, Confectionery, Dairy, Dried foods, Food safety, Fresh produce, Frozen, Health & wellness, Ice cream, Meat, poultry & eggs, Natural & organic, NPD & innovation, Private label, Retailers, Seafood, Snacks, Sustainability & the environment, World foods
Companies: Warburtons, Food and Drink Federation, Mars Inc, Tesco