Blog:

Christmas in July

Petah Marian | 15 July 2010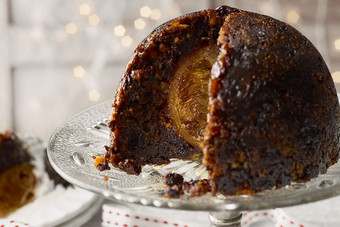 Heston Blumenthal's Christmas pudding
I visited a rather nice terrace house in Fitzroy Square for Waitrose's Christmas press day yesterday (14 July), the first of many over the coming weeks.
At this point you might be wondering 'Christmas in the middle of summer, what's that all about?' As an Australian, I'm no stranger to hot Christmases, but the reason for the early celebrations are so retailers can peddle their wares to the print press, who need long lead times before they go to press (no such problems here though).
This Christmas, Waitrose is pinning its hopes on people wanting to treat themselves, focusing on the premium end of its ranges. Many of the Waitrose people I spoke to talked of customers seeking premium products that are something different, but nothing too outlandish - a "safe premium" is how one described it.
If you thought roasted potatoes in goose fat is simply passé, Waitrose will be offering Ibérico ham fat instead - both in jars to add to your own potatoes and in a ready-to-bake offer.
Heston Blumenthal is going to get a good run this year - his Christmas pudding with candied orange looks spectacular and is apparently jam-packed with alcohol, so is strictly adults only.
I also tasted his smoked salmon which has been infused with Lapsang Souchong tea, which was nice, and thankfully did not taste like tea at all. His salmon is being smoked by John Ross Jr in its 150 year old kilns in Scotland.
Waitrose is also offering an exclusive breed of Turkey from Kelly Turkeys called Plumpies. Plumpies are a very traditional pure-line white breed which will be grown to maturity, rather than being slaughtered once they reach a certain weight. Supplier Kelly Turkeys' spokesperson Philip Regan said that raising them to maturity adds a layer of fat and confirmation on the joints that would add to their flavour.
The retailer is also betting big on beef this year with a number of cuts and varieties that will only be stocked for the Christmas period. It's going to be focusing on native UK breeds, with one Highland Scottish beef variety that's been aged for 21 days and seemed to have "great marbling" according to another one of Waitrose's spokespeople.
But of course the big news yesterday was that Waitrose plans to hive off all of its British organic private label products into its Duchy Originals by Waitrose brand.
Waitrose acquired exclusive use of the brand after it bought it from HRH Prince Charles last year and has spent the better part of the year assessing the range.
The new-look range going to be launched in August with 220 products.
It's beginning to feel a lot like Christmas?
---