Blog:
Gulfood 2015: Popcorn firm says promos, marketing key to category growth

Hannah Abdulla | 12 February 2015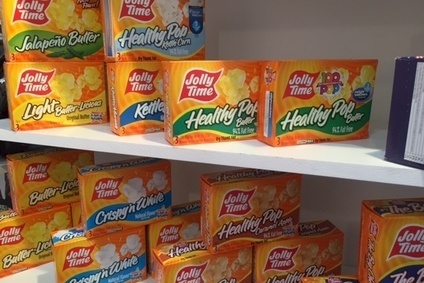 Jolly Time has been present on the region's shelves for over 15 years
The Middle East snack market is experiencing a surge of growth. At this year's Gulfood in Dubai, 'snacking', was identified as one of the top three trends in the region for 2015. According to a recent report from TechSci Research, one in five consumers are now grazing on snacks throughout the day instead of eating three square meals.
But when it comes to popcorn, looking at the UAE market alone, growth is fairly small. According to Euromonitor International, the overall popcorn market is expected to grow from US$2.8m to US$3m between 2014 and 2015.
Local reports suggest the market leader is US popcorn maker American Popcorn Co. with its Jolly Time brand accounting for 37% of the market in 2013 followed by American Garden Products.
At the show, American Popcorn Co. export manager Henry Lapidos told just-food given snacks are not staple foods, it can be a tough category to grow. For this reason, snack-makers must think carefully about their marketing relationships and promotional activities.
"People don't go to the supermarket with their shopping list saying I'm going to buy chewing gum or candies popcorn - you see it, you buy it," said Lapidos. "That's why tasting activities are important, proper positioning on the shelves of local supermarkets is important, it's important to have a good relationship and have hands on management with local distributors country-by-country to understand what are the issues, obstacles and problems".
The Jolly Time brand has been present in the Middle East market for over 15 years and now boasts a portfolio of over 17 flavours. Lapidos claims it started out by shipping half a container and is now a "multi-million dollar business" in the UAE alone.
Speaking of some of the challenges Jolly Time faced in growing the brand, he said lack of a popcorn eating "culture" in the 60s and 70s was one. Over time the business introduced the use of a microwave and worked with microwave manufacturers to boost its position. Since then it has become "a kind of symbiotic relationship that has developed".
"Microwave manufacturers cannot function or exist without us and we cannot exist without them. We were very much dependent on the number of microwave units in households in general. If it was 5% we knew we don't have much chance to sell microwaveable popcorn. But if it was 60% it's another thing so we started cooperating, exchanging info - we understood how it's expanding and as it was expanding, we were expanding as well."