Blog:
Hershey trials first 3D chocolates

Hannah Abdulla | 22 December 2014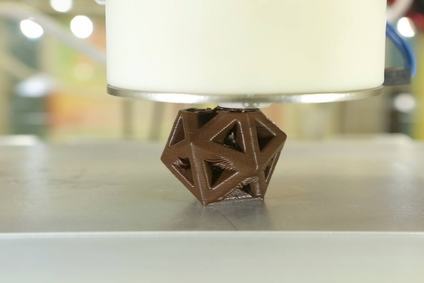 Fans have had the opportunity to see Hershey's 3D chocolate printing plan in action
Hershey has launched 3D chocolate for consumers to try after announcing plans to do so earlier this year.
In June, Hershey said it was working with 3D printing firm, 3D Systems on a "multi-year initiative" to examine the potential uses of 3D printing in the confectionery sector.
At the end of last week, the chocolate-maker allowed fans to witness live 3D printing at Hershey's Chocolate World Attraction.
"3D printing gives consumers nearly endless possibilities for personalising their chocolate, and our exhibit will be their first chance to see 3D chocolate candy printing in action," said Will Papa, chief research and development officer at Hershey.
The idea is to get consumers to personalise their chocolate and create something individual to them.
Experts believe 3D printing is only set to get to get bigger across the industry in the near future.
At this year's IGD Convention, an audience was told though it is early days, 3D printing is "a very exciting space" and that going forward, it will be an area the industry needs to watch.
The likelihood is that the area will demand more and more consumer interest. Lynette Kucsma from 3D food printing company Natural Machines said eventually "you will be as unsurprised to see a 3D printer in a kitchen as you would an oven," she added.