Blog:
Hershey tries its hand at visual merchandising

Hannah Abdulla | 20 November 2014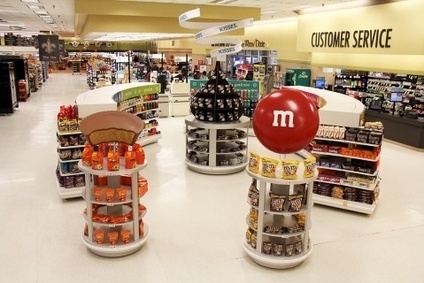 Hershey tries something new at the Winn-Dixie store in Baton Rouge
Reese's Peanut Butter Cups maker, Hershey, has taken the reins at the Winn Dixie store in Baton Rouge, Louisiana, ensuring candy gets the attention it deserves - right at the front of the store.
The confectionery firm in partnership with Bi-Lo Holdings, Winn Dixie's parent company, announced a new concept, set to replace "the traditional" candy aisle. Nielsen data has shown over the last few years the grocery channel has experienced declining sales in centre of the store categories, including confection, with trips in the grocery channel down 2.1%.
Hershey has decided to change all that with what it describes as a "store within a store" - a circular set of bold displays placed in the high footfall area next to customer service and checkout lanes. The chocolate maker says tests show that this "reinvented candy aisle" can lift sales for retailers by strong double digits.
Its not been selfish in its goal either. With most people being drawn to where the majority of products in a category are, Hershey has decided to bring along some of the top selling confections in competitor names to the party too.
Hershey is clearly looking at new ways of boosting sales, Last month the confectioner lowered sales and earnings forecasts on the back of lower third quarter operating and net profits. CEO John Bilbrey at the time said non-seasonal candy sales were somewhat depressed by the consumer environment so it comes as no big surprise that Hershey is looking at new ways to inspire consumers.
"A majority of shoppers find the candy category the hardest to shop and the least inspiring in the store resulting in many shoppers walking away without any confection in their basket. Our re-imagined candy aisle addresses these challenges and makes candy shopping more convenient and memorable," said Rick Price, senior manager of centre store evolution.
Winn-Dixie's Baton Rouge store has committed to using Hershey's new candy aisle design for one year. Throughout the year, Hershey will invest in in-store shopper research as well as category merchandising plans, adding it believes this will be a "game changer" and will "ignite a change in how candy is displayed and sold across the grocery channel."