Blog:

Holden's international aspirations for organic

Dean Best | 29 June 2010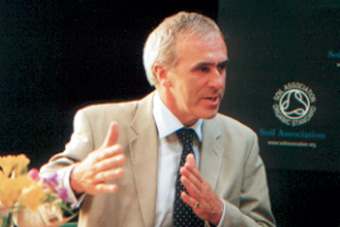 Holden believes organic sector needs greater co-operation around the world
Aside from the music and the mud - or this year, the melting crowds, sweltering in the heat - care for the environment is an ideal promoted at the Glastonbury festival in south-west England.
Today (29 June) is my first day back after almost a week basking - and baking - in the sunshine at Worthy Farm and, as usual, a key message from the organisers was environmental.
From their "Love the Farm, Leave no Trace" slogan to discourage revellers from leaving their tents behind, to scores of vegetarian and organic produce sold on site, Glastonbury has an environmental message few festivals match.
The first day back in the office is often something of a slog (not just for me but for colleagues bored at hearing about this and that band) but today's interview with outgoing Soil Association director Patrick Holden was something of a highlight.
Holden plans to quit the UK organic certification body in September after 15 years as its lead director.
Leading an association seeking to convince consumers to pay a bit more for produce that, it claims, benefits our health and the environment could have taken its toll on the 59-year-old - not least after last year's claims from the UK's Food Standards Agency that organic food gives us no extra health benefits.
However, Holden does not plan to rest and is looking to promote what he sees as the benefits of sustainable agriculture around the world.
"There is a frightening fragility about our food supply," he told me today as he hinted at plans to raise the profile of organic food worldwide.
Holden was coy about the plans - more will be divulged in the autumn, he said - but he seems to have the energy for it.
Unlike your leg-weary correspondent after five days on the farm.
---