Blog:

How Nestle CEO Bulcke hinted at more disposals

Dean Best | 11 April 2014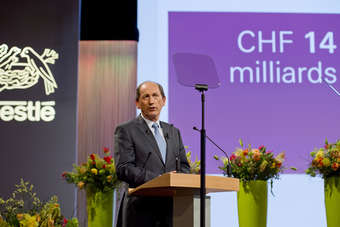 Bulcke has sold off weight management and sports nutrition assets in recent months
Nestle CEO Paul Bulcke has indicated the world's largest food manufacturer, which has offloaded assets in recent months, may continue to trim its portfolio.
Speaking at Nestle's AGM in the Swiss city of Lausanne yesterday (10 April), Bulcke said the world's largest food manufacturer was scrutinising its business so that company "continues to grow strongly into the future" in a "world that is changing so fast".
"We are looking at our product and brand portfolio and analysing it through a sharper, stricter lens. We are making choices about where we want to invest, where we want to improve and the areas we want to divest," he said.
In February, Nestle agreed a deal to sell sports nutrition assets, including the PowerBar and Musashi brands, to US food group Post Holdings.
That transaction came three months after Nestle announced it would sell the bulk of its Jenny Craig weight management business. In between times, in December, Nestle sold its stake in Swiss food ingredients group Givaudan, a move said to have brought in around CHF1.2bn (US$1.33bn).
"Making such choices enables us to put our people and resources behind our best opportunities. We can focus investment more precisely, move faster and be more agile and responsive. This results in a product portfolio which is stronger and more profitable," Bulcke told the AGM.
The Nestle boss told shareholders the company had, for example, "implemented several acceleration plans for instance for [coffee businesses] Nespresso, Nescafé Dolce Gusto and petcare".
Nestle faced something of a slowdown in 2013, even if its performance compared favourably with some of its peers.
Nonetheless, Bulcke and the management team have demonstrated they will make tough decisions about their portfolio and, with murmurings in the market about the future for assets like Lean Cuisine, it is likely more could follow.