Blog:
Is Unilever preparing to sell spreads?

Katy Askew | 19 January 2016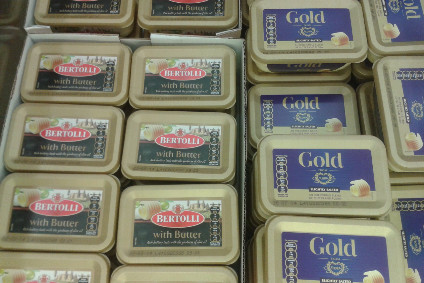 The head of Unilever's spreads division has left business
The will-they, won't-they speculation over whether Unilever could be preparing to put its struggling spreads unit on the block cropped up again today (19 January) when reports emerged that Sean Gogarty, who heads up the business, is leaving.
As Jefferies International analyst Martin Deboo noted: "Reports ahead of the numbers that Sean Gogarty, CEO of Unilever's spreads carve-out, was leaving reignited speculation that an exit from spreads is imminent. Conspiracy theorists might also note new CFO [Graeme] Pitkethly's comment that Unilever are no longer so reliant on foods cash-flow - the traditional excuse for keeping spreads - and the fact that a humble SVP has been promoted into Gogarty's shoes, suggesting caretakership."
In 2014, Unilever announced plans to separate its struggling spreads business, which includes the Flora and I Can't Believe It's Not Butter brands, into a stand-alone operating unit in a bid to improve its performance. The unit - called baking, cooking and spreading - reports into Unilever's food division.
Certainly it is true that, with revenue from spreads down 5% in in 2015, the business continues to weigh on the overall performance of Unilever's food division. And CEO Paul Polman did confirm the unit would be evaluated in 2016.
"Spreads continues to be a drag on the overall foods performance. We saw a decline of 5% as we have not been able to stem the ongoing market decline compounded by drop in butter prices. [2015] was a year of transition as we set up the new baking, cooking and spreads unit... It is still early for the unit and we will evaluate its course over 2016."
This does not necessarily mean that a sale is imminent. Indeed Polman seemed to play down the suggestion in this morning's analyst call, insisting selling it off at a bargain basement price would not create shareholder value. He explained: "We will continue to look at that to see if it is a good business for the company. We must continue to build shareholder value. I can get rid of this business tomorrow by giving it away to someone but that is criminal."
As Deboo was quick to stress, finding a buyer for the world's largest spreads business is no easy feat. "Our view remains that the market is seriously underestimating the challenge of exiting a big, declining business with a paucity of natural alternative owners possessing the requisite balance sheet and intent," he noted.
In other words, don't hold your breath for a major shake-up in the spreads landscape.