Blog:
Jacob's goes crackers in "British hall of fame"

Katy Askew | 4 April 2014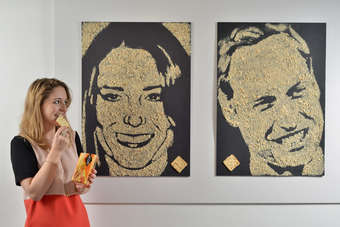 Kate & Wills
United Biscuits relaunched Jacob's as a "master brand" this week, bringing the group's classic cream crackers together with the likes of Mini Cheddars and Oddities.
How to celebrate the heritage of an iconic UK brand that has been trading since 1885? Make a "great British hall of fame" - from the crackers themselves - of course!
Food artists "Miss Cake" and Nathan Wyburn used over 12,000 Twiglets, 54kg of cream crackers and 10kg of mini cheddars to create various images from modern UK pop culture.
The exhibition included "Cheddar Cole", "Stone-cheddar-enge" and the Duke and Duchess of "Creamcracker-bridge" [pictured].
Sadly, however, if you wanted to see the "Union Crackerjack" or a "double cracker bus" you are out of luck. The artworks were on display in London for one evening only.
The striking exhibition was the centre piece of a launch event kicking off United Biscuits' GBP10m marketing campaign behind the Jacob's brand. The evening was hosted by TV cooking brothers Tom and Henry Herbert. (Apparently, cream crackers were a lifesaver for a wife of one of the Herbert brothers. She lived off them after being hit by Delhi-belly while travelling in India).
Marketing controller Nick Wizard took some time out at the launch event to explain the benefits UB believes the move will bring. Click here for more.