Blog:

London confirms transport ban on junk-food ads

Dean Best | 23 November 2018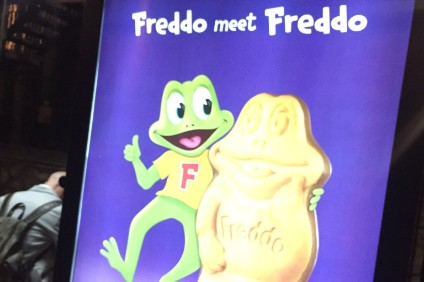 Restrictions come into force in February (Credit: Children's Food Campaign / @Childrensfood / @sugarsmartuk)
London's Mayor, Sadiq Khan, has confirmed what his office is calling a "groundbreaking" ban on advertising 'junk food' on the UK capital's transport network.
The proposals, put out for consultation earlier this year, will come in on 25 February. They will cover adverts for food and non-alcoholic drinks high in fat, salt and/or sugar (HFSS) and food considered "less healthy" under Public Health England guidelines.
The Mayor's office pointed to public backing for the measure, citing Khan's online Talk London platform, which received 1,500 responses during the consultation "with 82% supporting the proposals".
Khan said: "It's clear that advertising plays a huge part in the choices we make, whether we realise it or not, and Londoners have shown overwhelming support for a ban on adverts for junk food and drink on our transport network."
Campaigners of course rushed to hail the move. "The @TfL junk food ad ban announced today by @MayorofLondon will be welcomed by many parents who told us about effects of marketing on their kids. Let's stop blaming parents & start supporting them," the Children's Food Campaign tweeted.
Ben Reynolds, deputy chief executive at Sustain, which co-ordinates the Children's Food Campaign, added: "This is going to be world-leading and will play a really important part in a whole package of measures that are happening nationally. It's designed to get the most unhealthy foods off our advertising, and it will help shift towards a greater proliferation of healthy food being visible. This, in turn, starts to change people's purchasing behaviour and that leads to healthier lifestyles.
"There isn't a silver bullet, whether it's school food or advertising, but this will play its part, and this bold move shows what can be done. The Mayor, with this proposal, is certainly shifting the mood music."
just-food approached UK trade body The Food and Drink Federation for a reaction and it referred us to The Advertising Association.
Stephen Woodford, chief executive of The Advertising Association, said: "We all want to see rates of childhood obesity dropping but believe there are far better ways to achieve this goal.
"Not only will this measure fail to achieve the end goal of reducing childhood obesity, but it will also damage businesses in our capital and reduce TfL's income from advertising, with the potential of putting increased pressure on commuters through higher fares.
"At the same time, it is missing the opportunity of using advertising's support to solve the problem in a more effective way. There has been little interest to date from the mayor's office in working together with industry to proactively tackle this important issue; however, we remain ready to work with the mayor's office in a constructive way."
It is important to note not all of the public-transport network that serves London will be covered. The ban will apply across the advertising estate of Transport for London (TfL), the network of buses, trains, trams (and other services) run by the Greater London Authority, which is headed up by Khan. A number of privately-owned rail operators, for example, also run in and out of the capital.
That said, London's 8m people make more than 30m journeys on the TfL network every day, so the ban will be a significant restriction on the way some brands market themselves in that area.
Khan's plan should be applauded. It is often said local administrations can find it easier to implement stiffer policies aimed at tackling obesity and it should be hoped it sparks similar initiatives from central government, with some of the regulations governing other forms of media, including, for example, on the advertising around TV programmes broadcast before the 9pm watershed, in need of change.
By the end of the year, the UK's Department of Health is set to start consultations on, among other proposals, whether to introduce a 9pm watershed for TV advertising of less healthy foods.
On that note, the FDF has said it would continue to push for an evidence-based approach to framing further changes in policies to tackle obesity in the UK, including the proposed watershed.
Sectors: Advertising & labelling, Bakery, Canned food, Cereal, Chilled foods, Condiments, dressings & sauces, Confectionery, Dairy, Free-from, Frozen, Ice cream, Meat, poultry & eggs, Natural & organic, Seafood, Snacks, World foods