Blog:

Morrisons murmurs rumble on

Dean Best | 20 February 2014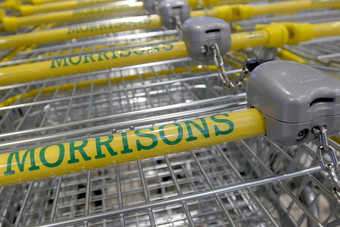 Morrisons' recent performance has been called into question in the City
Speculation over the future of Morrisons continues, with a fresh report claiming banks are working on finance to back a possible sale of the UK's fourth-largest grocer to private-equity funds.
Reuters said yesterday (19 February) bankers are looking at debt financing worth GBP5bn to support a potential sale.
"The size of the transaction, which could get as high as 10 billion pounds, could require a number of private equity players to team up, given the size of the equity cheque needed," an anonymous source described as a senior leveraged loan banker told Reuters.
The news agency said the Morrison family, which owns just over 9% of the retailer, had contacted private-equity houses after the retailer's disappointing Christmas.
That claim echoed one made by Bloomberg last week, which said the Morrison had held talks with buy-out houses Apax Partners, Carlyle and CVC Capital Partners. However, Morrisons founder Sir Ken Morrison, speaking to The Independent, promptly expressed "surprise" at the Bloomberg report.
Nevertheless, the Reuters report shows the speculation is continuing. Morrisons has seen sales come under pressure in recent quarters. Its sales fell in its last financial year, which ran until 3 February. Sales have also declined year-on-year in each of the first three quarters of Morrisons' current fiscal year.
Sir Ken has been a critic of Morrisons in recent years. In the summer of 2012, he warned Morrisons was losing relevance with core customers, a view echoed by some industry watchers.
Data issued by Kantar Worldpanel last week showed Morrisons had seen its share of the UK grocery market erode year-on-year, prompting criticism from the City over its performance and trading strategy.
Reflecting on the Bloomberg report last week, one critic, Shore Capital analyst Clive Black, said: "Given Morrisons' trading weakness and relatively low valuation, such headlines and potential initiatives are to be expected to some degree at this time, in our view. Indeed, we would expect a number of serious private-equity investors to be running the rule over Morrisons."
Shares in Morrisons spiked yesterday afternoon and closed the day up 4.83%.
This morning, at 10:24 GMT, the stock was down 1.60% at 240.10p.