Blog:
Nestle gluten-free cereal gets prime shelf-space

Hannah Abdulla | 5 November 2014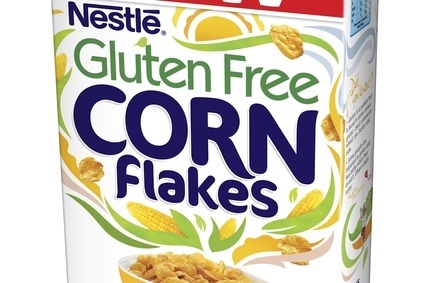 Nestle's Gluten-Free Cornflakes has made it to the regular cereal shelves in UK supermarkets
Nestle has secured prime-shelf space in the UK for its gluten-free cereal appeasing a growing army of gluten-free dieters.
The Gluten Free Corn Flakes product, which was launched in July under the Nestle and General Mills joint-venture Cereal Partners brand, will now sit alongside other Nestle cereals such as Cheerios and Shreddies in supermarkets across the nation.
The confectionery maker has also said the product will come with a "mainstream price" more in line with other cornflake offerings "as opposed to the higher price usually associated with gluten free products. The two variants, Traditional and Honey, will be priced at GBP1.99 and GBP2.19 respectively.
Dr Jolene McMonagle, a CPW nutritionist, said: "We've known for a long time that gluten-free products are increasing in popularity, but we also recognise that some of the gluten-free breakfast cereal products do not offer the same taste and flavour as their mainstream cereal counterparts."
CEO of Cereal Partners Worldwide, David Homer added that this marked "the first time" a gluten-free breakfast cereal was accessible to everyone.
Nestle is tapping into an enormous market with both the launch, and the latest news on its mainstream positioning. The gluten-free market in the UK is presently reported to be worth GBP17.5m annually and has been growing up to 37% year-on-year for the last five years. Figures show the global market for gluten-free is expected to reach US$6.2bn by 2018, up from $4.2bn in 2012.
Manufacturers are doubling down on their launches of gluten free products globally, and there has been a marked shift from when gluten free was only available from specialist retailers. Supermarkets too are being forced to take note and in September, Asda committed to stocking a core-range of eight gluten-free items in all of its stores under Coeliac UK's Gluten-free Guarantee campaign, which revealed 74% of Coeliac UK survey respondents said they have to visit more than one supermarket to complete their free-from shopping.
One of the biggest groans of maintaining a gluten-free diet however, as well as the lack of choice, has been the cost. A report on the Celiac Disease website compared a 16oz loaf of regular packaged sandwich bread which cost US$2, with a 14oz of its gluten-free equivalent at US$5.98.
This latest move from Nestle therefore, is likely to earn some serious (gluten-free) brownie points within the gluten-free community.