Blog:

Nestle opens KitKat "boutique" in Japan

Dean Best | 20 January 2014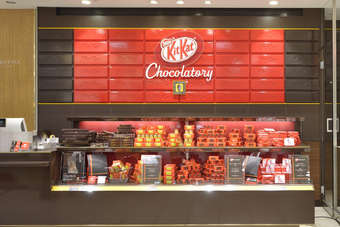 Nestle said KitKat's "very unique significance" in Japan sees bars used as gifts
Nestle has opened a retail "boutique" for KitKat in Japan, a market where, the food giant, claims its flagship chocolate brand, is "close to being a cult product".
The so-called KitKat "Chocolatory" will be located in a Seibu department store in Tokyo's Ikebukuro district.
The "boutique" will stock exclusive varieties of KitKat, including chocolate containing green tea.
Having a boutique for KitKat may seem an unusual move when viewed from the UK, where the brand is firmly seen as a mainstream product.
Nestle says KitKat is "still positioned as a mainstream brand" in Japan. However, the company said it was looking to "solidify" KitKat's position as Japan's "favourite chocolate".
"KitKat has a very unique significance in Japan. The name sounds similar to the Japanese phrase Kitto Katsu, which roughly translates as 'you will surely win', a phrase for wishing someone good luck. As a result, KitKat bars are often used as gifts, particularly for students sitting exams. This fact, combined with Japanese consumers' love of novelty, has led to the development of a very unique and innovative portfolio of flavours specific only to Japan," Nestle said.