Blog:

Nestle, Sara Lee get heated in coffee lawsuit

Chris Brook-Carter | 16 June 2010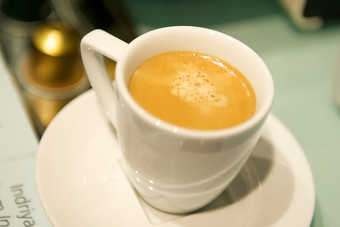 Nespresso coffee is a growing brand for Nestle
"We do not see any reason why Nespresso is initiating legal action against our products as they met all legal requirements," a Sara Lee spokesman said yesterday (15 June), reacting to news that Nestle is suing the US food group for patent infringement of its Nespresso coffee system.
We don't usually cover hot drinks here, either on just-food or just-drinks, but the significance of this case, the size of the players and their footprints in the food and beverage markets made us all sit up and take note of this one.
Nestle has had great success producing Nespresso packaged capsules that are used in its branded machines to brew individual cups of espresso.
So, is Sara Lee genuinely surprised that Nestle has taken offence to its move to launch its own coffee capsules — L'Or Espresso — that are compatible with Nestle's Nespresso coffee makers.
"Sara Lee is confident its product complies with all applicable legal and regulatory requirements," was the short and simple answer from the US group. After all, can anyone stop Sara Lee producing coffee capsules of any size it wants? Sara Lee is not packaging or branding its capsules in any way that breaches the Nespresso brand.
The issue here is not so much the product itself but the increasingly important issue of intellectual property.
"We welcome fair competition, we even thrive under it. But we will always take appropriate steps to defend our intellectual property rights when these have been infringed," Nestle told just-food yesterday evening.
"This action therefore aims to protect the integrity of taste and experience enjoyed by Nespresso lovers, which is the result of continuous innovation over 25 years. We leverage our science to innovate and keep ahead of competition. So when our innovation is infringed, it follows that we defend our rights."
In March, Nestle announced that it achieved sales of CHF 2.77bn (US$2.45bn) for the brand, delivering sales growth of more than 22%. This year, the company asserts it is on track to deliver double-digit growth and exceed CH3bn sales milestone.
Its efforts to protect this cash cow and its impressive growth rates will be seen as a test case for the rest of the beverage market. If Nestle is unable to prove its position, the flood gates of me-too capsules will be flung well and truly open.
But does it have a winnable case?
Independent food sector analyst James Amoroso told just-food: "The background is that the other coffee manufacturers have all tried to launch their own machines and have failed to match the delivery of quality of Nespresso. Sara Lee and others are now trying to piggy-back the system that Nestlé has taken decades to establish with the associated high investment costs.
"Morally, I would regard it as unfair that other commercial organisations should benefit at this stage from Nestlé's efforts. The market is still growing in strong double-digits, so you cannot even argue that it is a monopolistic mature market deserving of a cheaper version."
Unfortunately, for Nestle, what is moral and what is legal are not always the same thing. The world has become a hugely complex and unpredictable place for those trying to protect intellectual property – just ask anyone in the publishing, music, software industries, to name but a few. Consumers and society as a whole are simple more accepting of the grey areas that surround this issue because choice is the ultimate result.
---