Blog:

Ocado branches into vertical farming

Dean Best | 11 June 2019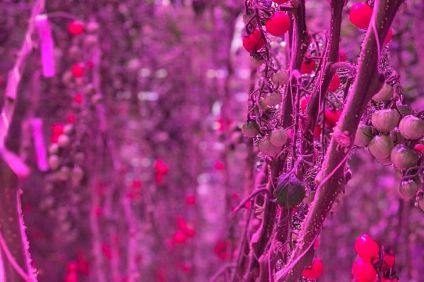 80 Acres Farms to set up JV with Ocado and Dutch firm Priva
UK-based online grocer Ocado - increasingly seen not just as a retailer but as a broader tech business - is to plough investment into indoor farming.
The London-listed business has set out two initiatives in the emerging field of vertical farming, where food is produced indoors through crops grown in stacks and in a controlled environment.
Ocado has bought a majority stake in Jones Food Company, a UK firm it described as "Europe's largest operating vertical farm". Jones Food Company, or JFC, produces leafy greens and herbs for customers in the UK at its site in Scunthorpe in eastern England.
In a second move, Ocado has signed a memorandum of understanding for a three-way joint venture with US vertical-farming business 80 Acres Farms and Netherlands-based Priva, which supplies products for climate control and process automation to companies in the horticultural industry. Priva and 80 Acres Farms have worked together on developing products to sell vertical-farming businesses.
Under the plans, each business will own a third of the venture, which is to be called Infinite Acres.
Tim Steiner, Ocado's CEO, said the business had an eye on setting up vertical farms next to its distribution centres. "We believe that our investments today in vertical farming will allow us to address fundamental consumer concerns on freshness and sustainability and build on new technologies that will revolutionise the way customers access fresh produce. Our hope ultimately is to co-locate vertical farms within or next to our customer fulfilment centres and Ocado Zoom's microfulfilment centres so that we can offer the very freshest and most sustainable produce that could be delivered to a customer's kitchen within an hour of it being picked."
Ocado Zoom is a new delivery service being trialled in London that ships to consumers in an hour but offers a more limited range of goods.
Proponents of vertical farming tout the sustainability credentials of the practice, pointing to the use of less land and water, as well as to the absence of pesticides.
It is still early days for the budding industry. The tie-up with Ocado could give JFC, for example, insight into how the retailer's use of technology could make its own business more efficient. And the JFC management team will also be looking at Ocado's customer base.
"We are certain that the combination of [Ocado's] world-leading logistics and automation systems coupled with our advanced growing technology will transform the way customers experience fresh produce - delivered fresh to their door a matter of hours from ordering. JFC has always been committed to minimising the environmental impact of agricultural production and we see this partnership accelerating our ambitious growth strategy to make a wider variety of vertically farmed produce available to even more customers," JFC's CEO James Lloyd-Jones said.
Ocado's series of international retail partners - including Kroger in the US, Sobeys in Canada, Casino in France (and from next year) Marks and Spencer in the UK - will be watching developments closely.