Blog:

One major investment bank believes US-China trade war unlikely

Dave Leggett | 23 January 2017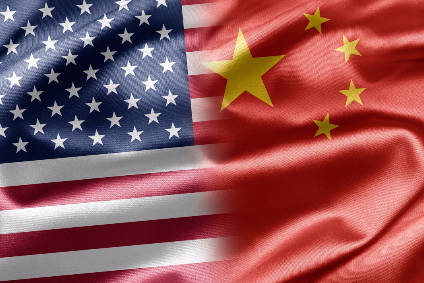 Trump's criticism of China has accused of "manipulating" currency
Although risks of trade friction have increased with Donald Trump's election as US President, a research note from investment bank Credit Suisse sees an all-out trade war between the country and China as unlikely.
The note also suggests a proposal in Congress for a tax adjustment on export income might emerge as a viable compromise to assist US exporters while avoiding the risk of retaliation from import tariff hikes.
In his note, Björn Eberhardt, head of global macroeconomic research at Credit Suisse, reflected on the Trump's hitherto "anti-trade narrative". Eberhardt said much of Trump's recent remarks have focused on China, raising concerns over the trading relationship between Washington and Beijing, if not an outright trade war.
Eberhardt acknowledged Trump has been appointing protectionist individuals to leading trade-related positions and said it is "highly likely that these nominees will also bring like-minded followers into crucial positions".
He said "there are several laws that Mr Trump could use to impose tariffs and quotas without congressional approval". If he attempts to raise import tariffs, legal challenges in the US - led by impacted firms - are likely to follow and foreign countries could resort to the WTO to complain.
However, Eberhardt notes impacted foreign countries would likely resort to immediate retaliation with tariffs imposed on US goods. This, he says, would "in effect herald the start of a trade war".
Eberhardt adds: "We continue to regard such an outcome as fairly unlikely, as it would clearly run counter to the wishes of a large part of the US population that relies heavily on cheap imports."
He also notes the "US Congress itself does not seem to be too eager to increase tariffs, according to statements from both House Speaker Paul Ryan and Senate Majority Leader Mitch McConnell since the US elections". A preferred measure may be a general overhaul of the US tax code, including the introduction of a "border adjustment". The latter, Eberhardt says, would exempt corporate income earned from exports from corporate taxes, while subjecting income earned from imports to corporate taxes. Such a policy would makes imports relatively more expensive and cheapen exports.
Meanwhile, Eberhardt says it can "almost be taken for granted" that the Trump administration will withdraw from the Trans Pacific Partnership (TPP) but as the agreement is not yet in force, there will "likely be little tangible damage done to existing trade relations".
More damagingly, he notes a wide range of executive powers of the US President allow Trump to cancel treaties such as the North American Free Trade Agreement, with "Congress largely unable to step in".
Throughout the election campaign and since his victory, Trump has been critical of trade deals such as the North American Free Trade Agreement (NAFTA) – which he has described as "the worst trade deal maybe ever signed anywhere".
He has vowed to renegotiate the agreement and secure "a better deal" for the US. However, it remains unclear what he actually means by that.
Eberhardt concludes Trump's apparent intention to deliver quick results and the appointment of protectionist individuals to key trade positions "already signal a shift to more protectionism". Whether this does indeed lead to trade wars between the US and other economies is difficult to project, but, he adds, the "risk is real".
However, Eberhardt says Congress's border adjustment proposal as part of broader tax reform "might be a way around an overt trade war by applying tariffs and quotas".
The risk of a trade war between the US and China, which might extend to wider boycotts of US branded products inside China, would cause considerable concern for American food companies with operations there.
Trump presidency seen as negative for global food trade - just-food's 2017 Confidence Survey results
Sectors: Baby food, Bakery, Canned food, Cereal, Chilled foods, Commodities & ingredients, Condiments, dressings & sauces, Confectionery, Dairy, Dried foods, Emerging markets, Fresh produce, Frozen, Ice cream, Meat, poultry & eggs, Natural & organic, Private label, Seafood, Snacks, World foods