Blog:
PepsiCo's Dewitos: A bridge too far?

Katy Askew | 11 November 2014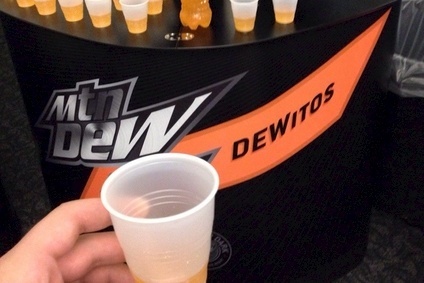 PepsiCo is trying out a Doritos-flavoured Mountain Dew drink at US colleges (photo by Steve Barnes/Reddit)
PepsiCo has continued to develop its strategy of trying to benefit from linking its Mountain Dew and Doritos brands. This time by combining the two. Literally.
The company told our sister site, just-drinks.com, it is test launching Dewitos, a Doritos-flavoured Mountain Dew drink, at various college campuses in the US.
PepsiCo has been eager to stress the benefits of its broad drinks and snacks portfolio (particularly after resisting pressure from activist investor Nelson Peltz to split the business in two). Moves to promote the links between Doritos and Mountain Dew have become a poster boy for this cross-selling, cross-promotion strategy.
According to management, the results have been positive with an uplift in both sales and shelf space allocated to co-promoted products. Speaking at the recent Barclays Capital Back to School conference, Frito-Lay president Tom Greco said PepsiCo's snack volume sales and inventory display levels have been raised through the utilisation of joint displays with drinks brands. Snack inventory in joint displays was 53% higher than regular displays and the group also benefited from a lift in volumes, he suggested.
The company has also used relationships developed by its drinks business to move Doritos into areas such as foodservice. Doritos tacos are now a Taco Bell staple in the US.
But, while the strategic rationale seems sound, one can't help wondering if PepsiCo's research teams have gone a step too far in combining the flavour of two very distinct products. Certainly the combination has drawn some heat and a considerable bout of mild revoltion on Twitter, that modern day barometer of public opinion.
Apparently, the product tastes like orange with a "liquid cheese" after taste. Not the most appealing combination in any drink.