Blog:
Popularity a challenge and opportunity for US organic movement

Katy Askew | 19 September 2014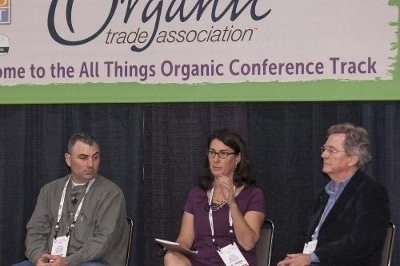 Panelists discuss challenge and opportunity of demand growth, mainstreamisation
Growing demand for organic foods in the US is propelling sales in the sector. Organic products are moving from their niche to gain mainstream traction. Penetration is high - more than 80% of families "sometimes" buy organic - and sales in the market reached a record US$35bn in 2013.
While this represents a massive growth opportunity for food manufacturers, the Organic Trade Association was quick to point out the significant challenges that the sector faces at its All Things Organic conference, which is being held alongside the Natural Products Expo East.
Speaking at a round table event yesterday (18 September) OTA executive director and CEO Laura Batcha stressed organic acreage and production in the United States have not kept up with the growth in organic demand. "How to close the gap between organic production growth and the growth in the industry is the challenge of the next decade if we want our industry to remain successful."
The panellists, who included Environmental Working Group president Ken Cook and organic farmer Doug Crabtree, also expressed concerns over confusing messaging surrounding the meaning of organic foods.
Growing consumer demand and increasing availability of organic products was largely welcomed. Crabtree said: "The more organic the better. Organic is good for soil health, organic is good for rural communities. Organic is good for farmers and consumers. I can't see anything negative about expanding organic."
However, pannelists added uptake by big box retailers like Wal-Mart and Kroger is raising questions and confusion over the real meaning of organic and the integrity of organic standards. Confusion over competing food labels and scepticism about the strength of the standards for certified organic products are also playing a role in today's marketplace, the experts warned.
For just-food's coverage of the Natural Products Expo East and our pick of the top trends driving growth in the sector, click here.