Blog:

Retail price comparison battle reaches Spain

Dean Best | 19 September 2013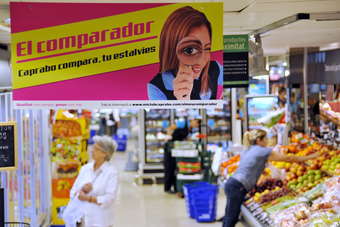 Caprabo is targeting rival Mercadona with price-comparison scheme
Grocers comparing prices and giving consumers money-off vouchers has become a fixture of the UK grocery scene - and now we hear of a similar scheme in Spain.
Supermarket chain Caprabo has launched El Comparador, which it has labelled a "pioneering commitment to saving".
In a statement out yesterday (18 September), Caprabo said: "For the first time in Spain, a supermarket retailer launches a programme that is a guarantee of ongoing savings for consumers".
In Caprabo's sights is rival Mercadona. Caprabo, which is owned by Spanish retailer Eroski, said it would compare at the till - or at the online checkout for a virtual shop - its prices with "equivalent" Mercadona products. If a transaction is more expensive at Caprabo, it has pledged to give consumers a money-off voucher for their next trip. Caprabo is checking prices on over 2,500 branded, own-label and fresh produce lines.
However, a notable difference with some of the schemes in the UK is that, in order for shoppers to have their Caprabo basket price-checked with that at Mercadona, they must have signed up to the Caprabo loyalty programme, which it relaunched last year to win over Spanish shoppers no doubt looking for value in one of Europe's most under-pressure economies.
Caprabo's owner Eroski has also seen its financials under pressure. In the year to 31 January, Eroski saw its annual losses grow and its sales slide.
Spain's grocery market is one of the most competitive in Europe and Caprabo is seeking to carve out a position as a leader on price. As in the UK, we should perhaps expect its competitors to react.