Blog:

Sainsbury reveals more of Fresh Kitchen in Twinterview

Petah Marian | 18 January 2011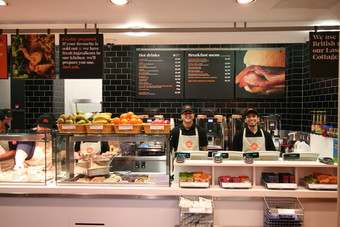 Sainsbury's has revealed more detail around its new Fresh Kitchen concept
Sainsbury's revealed more detail around its new Fresh Kitchen concept in a 'Twinterview' today, that is, an interview held over the social media platform, Twitter.
The great thing about such formats as they allow you to be selective about what you answer, so unfortunately we weren't able to get any depth on the retailer's plans to roll out the concept beyond its Fleet street outlet.
When faced with questions about its plans, it said that "We've only been open four days and are not in a position to talk about future plans".
Some of those participating did wonder "what we're all doing here then if Sainsbury's can't talk about the future plans of Fresh Kitchen".
However, the retailer did reveal that it spoke to a "big cross-section of customers to understand their lunchtime needs", that the lunchtime market is worth over GBP13bn and that it will consider making office deliveries "if the demand is there".
The retailer added that the stores are a "stand-alone concept", which are different from its in-store cafe. It said the stores offer the reassurance of "our values and a clear distinction from our supermarkets".
The majority of food is prepared daily in-store and includes sandwiches, salads and hot food.
---