Blog:

Seven answers to day one's seven questions at the World Retail Congress

Dean Best | 20 September 2012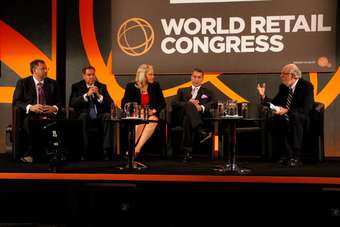 Retail executives, including Tesco's Philip Clarke (far left) at the World Retail Congress in London
As hazy sunshine appears over the Excel Centre in London's Docklands, it is time to reflect and suggest some possible answers to the questions just-food suggested would be central to discussions on the first day of the World Retail Congress.
1. How does Tesco CEO Philip Clarke, a man facing his own challenges in the UK, believe retailers can eke growth in the toughest economic conditions for a generation?
In day one's opening session, Clarke argued retailers must embrace a strategy of "mass personalisation" to adapt to consumers becoming less loyal in their choice of where to shop. Retailers must use the technology at their disposal - Internet, mobile, social media - to try to tailor their offer to individual consumers. Clarke's theory is solid and can increase the chances that shoppers eschew Asda, Sainsbury's or Morrisons for Tesco. Anecdotally, sending members of Tesco's Clubcard loyalty scheme money-off vouchers on products they have bought in the past can sway where people shop. However, such initiatives do come at a cost, if not to Tesco then to their suppliers, and the less loyal is here to stay and much harder to win over.
2. How should multinational retailers look to adapt to eking out growth in the mature markets of the West but ensuring they get their share of the rewards in faster-growing markets?
Clarke's strategy is one idea for the mature, stagnant markets of the West and harnessing what he called the "digital revolution" could also be used in faster-growing economies like Brazil and China. Grupo Pao de Acucar, Brazil's largest retailer, is rolling out technology that enables consumers to shop on the move using their mobile phone. Of course, retailers (and manufacturers for that matter), eyeing the potential rewards of the emerging markets need to tailor their marketing and product strategies to local consumers - one size does not fit all.
3. Should retailers operating in the faster-growing economies look to build in local marketing strategies into their offer?
Certainly. A consumer in Shanghai is not the same as in Sao Paulo. Devising NPD, product and marketing strategies that appeal to local consumers is vital in emerging markets, particularly with countries like the BRIC markets housing strong domestic players. And some of these homegrown titans are bullish about their prospects, even with the prospect of further multinational investment. Rakesh Biyani, joint MD of India's largest retailer Future Group, told just-food yesterday his company's knowledge of the Indian consumer would support its growth even as the country opens up to more foreign investment. And investors in emerging markets also need to remember - consumer tastes vary within countries. An Indian jewellery retailer said consumers in the north like big pieces, in the south, they prefer more under-stated, quality products.
4. What impact is the shift - in both mature and emerging markets - to e-commerce having on traditional physical stores?
Tesco chief Clarke said consumers were "opting out" of visiting stores and said the growth coming from the retailer's core food business in the UK was coming from the online channel. Elsewhere, retailers incorporating the digital into the physical: Marks and Spencer is using giant touchscreens in some of its stores that allow consumers to browse and order. The message is clear - retailers cannot ignore the digital world. Omnichannel - a buzzword used to describe how consumers use stores and websites - is here to stay.
5. What is the short-term outlook for India? Will reform of rules on foreign investment be implemented? Will the plans again be stymied by local opposition?
India's top retail chiefs present at the World Retail Congress believe the government's attempt to push through retail reform will succeed despite the fierce opposition in some political circles. Both Future Group's Biyani and Bharti Enterprises MD Rajan Bharti Mittal said the easing of rules on foreign investment will be implemented and argued the reform would benefit the Indian economy. India has issues with supply chain, red tape and agricultural waste - reflecting more broadly on the Indian economy, one retailer said the country was "15 years behind China" - but industry executives remain very upbeat about the country's potential.
6. What are the new concepts and formats that are transforming the retail sector?
Looking at the food industry, the major trend is "hyper-local", according to Neil Stern, a US retail consultant and senior partner at McMillan Doolittle. Across a number of markets, retailers are opening stores "pursuing" the local trend, he says.
7. How should retailers exploit the rise of the mobile and digital shopper?
Clarke outlined his ideas in the morning and M&S executive director for multichannel e-commerce Laura Wade-Gery discussed how e-commerce was "transforming" retail. Alongside the challenge of operating in the prolonged downturn, multi-channel was the theme of the day. However, one notable piece of caution came from UK clothing retailer Debenhams. Simon Forster, director of debenhams.com, admitted the company had "experimented" with pushing its brands through Facebook and encouraging consumers to buy via the site. The retailer soon gave up he said as shoppers told the company they did not use Facebook for that reason. For all the hype around social media, tread carefully.
---