Blog:
Should more dairy firms target bone health?

Hannah Abdulla | 29 April 2015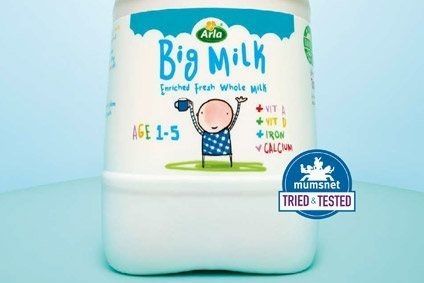 Arla has launched a nutrient-enriched milk in the UK
A growing awareness of bone health in the UK is presenting a big opportunity for dairy manufacturers in the UK, a report from Canadean has revealed.
According to the research group, two in five British consumers want to improve their bone health. Unfortunately, low sunshine levels in the UK mean many suffer from a deficiency of vitamin D, essential for the absorption of calcium. Official figures show that 4,638 children admitted to NHS hospitals in 2013/14 were found to be suffering a Vitamin D deficiency, compared with 1,398 cases in 2009/10.
Increasing knowledge of this problem has prompted a rise in the number of people looking for vitamin D and calcium-enriched foods. Last week, Arla Foods announced the launch of a "nutrient-enriched" fresh milk aimed at children in the UK. The filtered milk contains calcium, vitamin D, iron and vitamin A.
But it's not just parents looking to improve their children's vitamin D and calcium intake. Adults, concerned about osteoporosis, are increasingly on the look-out for products that meet this need. Canadean's report shows one in three UK consumers is concerned about osteoporosis and 41% want to improve their bone health over the next twelve months.
Some dairy manufacturers have already sought to tap into consumer interest. In 2012, Yoplait launched Calin+, yoghurts already on sale in western Europe and which contained 100% of the EU-recommended daily allowance of vitamin D. But some industry watchers says the opportunity is growing as consumer concern increases.
Veronika Zhupanova, analyst at Canadean, says: "Awareness of osteoporosis is improving, leading older consumers to keep an eye out for food and drink products designed to help them maintain their bone health."
At present, three million Britons suffer from osteoporosis. According to Canadean, the importance of increasing awareness of osteoporosis will rise in tandem with the UK's ageing population.
"At the moment, 33% of British consumers are concerned about osteoporosis; but this number will rise as more consumers become aware of the importance of improving bone health while they are young in order to prevent problems in future," Zhupanova adds.