Blog:
Taste, quality key to Green & Black's popularity

Katy Askew | 20 June 2014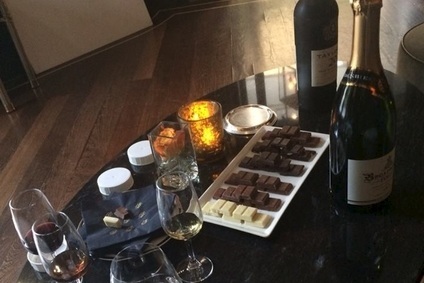 Tasting with Green & Blacks at the Churchill Bar, London
As a journalist, sometimes you are faced with a really tough assignment. Like yesterday, when I had to attend a chocolate tasting with Mondelez International-owned organic chocolate brand Green & Black's.
Brandt Maybury, Green & Black's official taster, talked us through some of the ways to pair Green & Black's chocolate with various drinks.
Interestingly, many of us like to enjoy chocolate with a nice glass of red. To me, this seemed like a natural enough pairing. How wrong I was - the wine should always be sweeter than the chocolate, Maybury explained.
We were then presented with some of my least-favourite drinks, from dessert wine to port and sherry. I was surprised to find that, despite my missing sweet tooth, I enjoyed them all in combination with the chocolate pairings.
This information has been transformed into a rather nifty marketing trick for Green & Black's connoisseur collection - which leads consumers through the drinks you might consume during an imagined dinner party and the chocolate that would pair well with them.
At GBP18 (US$30.67) a pop, it isn't cheap. But it is a key focus for Green & Black's Christmas activity this year.
Green & Black's is a trailblazer in the fields of UK organic and fairtrade production. It was the first organic chocolate bar launched the UK and the first fully fairtrade chocolate product to hit the market as well, Maybury observed. However, while these attributes are important to the brand, it was clear yesterday the defining characteristic of Green & Black's is its focus on quality.
"Organic, fairtrade are very important to us. That is our heritage. But when we ask consumers what matters most, taste comes out top time and again," Maybury explained.