Blog:

The bankers go cocoa

Chris Brook-Carter | 20 July 2010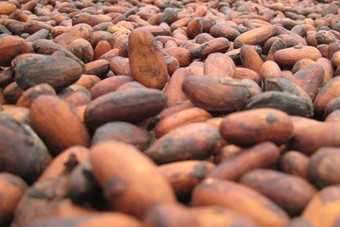 Armajaro was reported to have bought 7% of the world's cocoa supply
Food prices, commodities trading and their effects on the global supply of food have once more come to the forefront of the media spotlight this week.
Only yesterday, commodities trader Anthony Ward was reported to have cornered the cocoa market through his group Armajaro Holdings.
The UK's Daily Telegraph reported that he paid GBP658m for enough cocoa beans to manufacture 5.3bn quarter-pound chocolate bars.
Those reports were an intriguing backdrop to accusations made today by a leading anti-poverty campaigning organisation that the activities of banks, hedge funds and pension funds in the food futures market are causing drastic price swings in staple foods such as wheat, maize and soy.
"While bankers are reaping huge profits from betting on food, poor families across the world are paying the price of hunger and malnutrition," the World Development Movement said.
The WDM is ramping up pressure on the UK government to back proposals to regulate betting on food prices in financial markets. It claims that the Obama administration and the European Commission are both calling for regulation on these sorts of activities but that heavy lobbying against these proposals is coming from the banks.
The broadside on the banks by the WDM has already provoked a strong response from Goldman Sachs – a bank the singled out for criticism in the report.
Goldman Sachs says the WDM conclusion that futures trading has caused food prices to rise are "disingenuous and downright misleading". It also said today that the profit estimates WDM makes are "ludicrously overstated".
Goldman Sachs is right to argue that a range of issues have come together to provoke the rise in food prices seen in the last few years. Those factors look set to continue to put a squeeze on commodities, which in turn will provide fertile ground for investors.
But trades such this recent cocoa deal will only add fuel to the fire, with concerns from many quarters that this sort of speculation only increases volatility and uncertainty, with no benefits to the farmers and potentially higher end costs for consumers.
"Food will go to a price where it encourages these developments," Ward said recently of the trend toward farmland acquisition and food-related investing. "If you're long food, it will give you good returns."
Who'd bet against that?
---