Blog:

The march of the vegans

Andy Coyne | 4 January 2019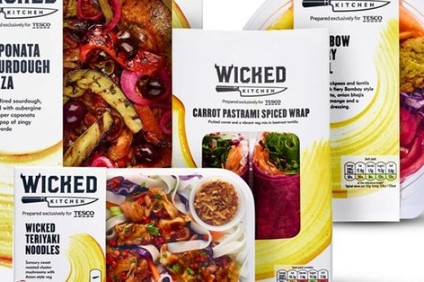 Tesco's Wicked Kitchen vegan range
As I sit here on Fat Cat Friday, the day before Sunshine Saturday, contemplating Veganuary, it occurs to me days and months without special events attached to their names must be getting an inferiority complex.
Yes, it's the start of the year again when TV schedules are awash with programmes about diet and health, gyms are full and - as if we didn't feel guilty enough already for all the chocolate we've eaten over Christmas - we're given fresh warnings about the levels of sugar in our food and obesity.
In the UK principally but in other markets, too, for the food industry - manufacturers and retailers - January's re-birth has increasingly become about vegan food offerings. The Veganuary craze seen in the UK, during which a growing number of people are giving up meat and dairy products for the month, has gained a foothold and provides a platform on which to offer new vegan lines, building on a food trend that has been with us here for a year or two.
All of the major UK grocers now offer extensive vegan product ranges with the likes of Tesco, Sainsbury's and Waitrose launching new own-brand lines or offering new products from specialist food companies this month already.
They are, of course, targeting health and diet-conscious 'flexitarians', who are looking to cut down on then amount of meat and fish they eat while still maintaining a protein-rich diet, more than they are true vegans, who, to be fair, probably don't need a supermarket chain to guide their firmly-held lifestyle choices.
What it does do, though, for those of us who like to try new things as we move around the grocery aisles, is provide us with more choice and some interesting options.
Having already seen US-based plant-based poster child the Beyond Burger - from Beyond Meat - arrive in the UK via Tesco before Christmas, we are now seeing North American plant-based 'seafood' specialists Sophie's Kitchen and Good Catch entering our shores via Sainsbury's and Tesco respectively.
And when fast-food meat giant McDonald's starts offering a vegan choice on its menu - as it has this month in the UK - we know something big is happening.
Most consumers take, or don't take, this with a shrug of the shoulders. It's not removing choice from meat eaters, just adding it for those who wish to have a more balanced diet.
Which is why it was strange to see such a social media furore surrounding the news ubiquitous UK High Street baker Greggs is now offering a vegan sausage roll.
The outpouring of resentment from Greggs regulars on Twitter and elsewhere suggested the barbarians are at the gates and revealed a worrying resistance to change from a section of the British populace.
And it's even stranger when you think Greggs has for many years offered up vegetarian products such as cheese and onion pasties and their vegetable equivalent.
Other people's harmless lifestyle choices making people angry is as bizarre as it is absurd.
Anyway, meat-purist moaners of this kind are clearly raging against the machine. This is not a fad. Plant-based food is here to stay. And it's vegan rather than vegetarian offerings that are in the ascendancy.
The latest Meat-Free Foods report from research organisation Mintel revealed that more than half of all meat-free new product launches in the UK in 2017 carried a vegan claim. That percentage figure is likely to have increased in 2018.
So is there anything that can stop the relentless rise of the vegan product?
Well, Brexit might have a bash.
If, as suggested by many observers, the UK economy takes a hit after the UK leaves the European Union at the end of March, consumers may look to tighten their belts and many of the packaged vegan products carry a premium price.
And, if people decide they want vegan food but don't want to pay for someone to make it for them, there has always been a decent alternative - it's called the fruit-and-veg aisle.
just-food will be taking an in-depth look at the UK vegan food market at the end of this month in a two-part 'deep-dive' feature.
Sectors: Bakery, Free-from, Fresh produce, Health & wellness, Meat, poultry & eggs, Natural & organic, NPD & innovation, Private label, Retailers, Seafood, Sustainability & the environment
Companies: Beyond Meat, Waitrose, Tesco