Blog:

Twiggy, gingerbread men and Monty Python - the M&S AGM

Dean Best | 15 July 2010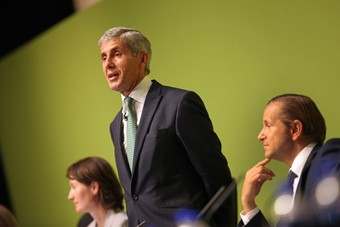 Past, present and future: Sir Stuart Rose and Marc Bolland at the M&S AGM
In the end, there were not the fireworks some were expecting at the Marks and Spencer AGM in London yesterday (14 July).
Sure, some commentators can claim M&S got a 'bloody nose' over its remuneration report after investors representing a little over 16% of its shares voted against the pay packages awarded to the UK retailer's board.
However, with M&S chairman Sir Stuart Rose bowing out after six years at the helm of the company, the meeting at the Royal Festival Hall turned into a fond farewell for one of UK retail's more colourful characters.
Sir Stuart got several rounds of applause throughout the two-hour meeting, had the shareholders chortling with his quips in response to investor questions and observations (ranging from serious questions over pay and strategy to concerns over the "decapitated ginger bread men" on sale in the M&S in-store cafes) and had them cheering as he did his annual turn as a 'market trader', showcasing the retailer's wares alongside Twiggy.
"This man is not only a great businessman but he is also a true gentleman," Twiggy gushed. Cue more applause.
The M&S chairman spent time outlining to shareholders how the company had improved under his tenure, which started in the teeth of a takeover battle six years ago, when Sir Philip Green was aiming to buy the business.
M&S is a " business, a stronger brand and better equipped than ever before", Sir Stuart said, seemingly throwing down the gauntlet to his successor, former Morrisons boss Marc Bolland.
For his part, Bolland said little throughout the meeting. He briefly addressed shareholders, praising them and saying he "cherished" the "heritage" of M&S. He was a man of "evolution not revolution", investors were told.
Those wanting the Dutchman to shed more light on how to take the business forward left disappointed and will be forced to wait until M&S's interims in November when the Dutchman will outline his plans.
Bolland escaped too many negative comments on his pay, although one shareholder, addressing the new M&S boss, said: "I've still got to win the lottery; I don't think you have."
But, as with Sainsbury's earlier, questions ranged from serious points on strategy to somewhat bizarre observations including whether Sir Stuart was a "Russian agent" to the socks "falling apart when you look at them".
After two hours, the meeting ended and delegates filed out as 'Always Look On The Bright Side of Life' was played throughout the hall.
Bolland must wonder what to make of it all.
---