Blog:

Two of France's largest grocers in quarrel over "merger" claim

Dean Best | 25 September 2018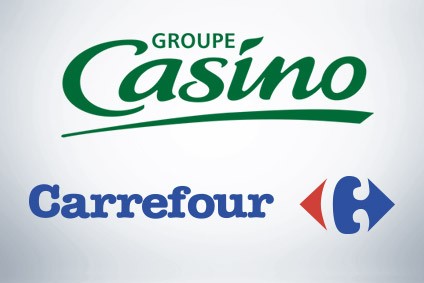 Possible Carrefour could be some of Casino's assets
Carrefour and Casino, two of the biggest food retailers in France and owner of hundreds of stores overseas combined, are squabbling about claims one approached the other of a possible merger.
On Sunday (23 September), Casino issued a statement asserting it had been contacted by Carrefour "over the last few days with a view to a possible combination".
In the statement, Casino said its board had met on Sunday and had "unanimously reiterated its entire confidence" in the retailer's "strategy for value creation based on its unique market positioning".
The statement read: "The board unanimously decided to reject Carrefour's approach. Casino thus intends to take all necessary action to defend the group's corporate interest, and its structural integrity, a key factor for the success of its strategy."
The St Etienne-based Casino - which runs chains including Franprix and Leader Price in France - said its board also "observed that Carrefour's approach occurs at a time when the market for Casino's securities has been subjected to coordinated downward speculative manipulations of an unprecedented scale over the course of the past several months".
From the start of 2018 to the close of trading on Friday, Casino's shares had fallen more than 29%, in part amid concerns over debts at the retailer's parent holding Rallye.
The statement raised eyebrows in the market, what with the relative market shares of Casino and Carrefour not just in France but also in Brazil.
According to Statista, a combined Carrefour-Casino would, based on forecast 2018 market shares, account for 29.4% of France's grocery retail market.
A report from the Foreign Agricultural Service of the US Department of Agriculture, issued in June, had Carrefour as the largest retailer in Brazil by market share, at 14%, according to figures cited from the Brazilian Supermarket Association. Casino's Grupo Pao de Acucar was second at 13.7%.
Fast-forward to Monday morning and a statement emerged some 285 miles further north from Carrefour's HQ outside Paris. Carrefour's statement also referred to Casino's recent "difficulties" but flatly rebuffed the claim it had made an approach.
"The difficulties faced by Casino and its controlling shareholder may not justify untimely, misleading and groundless communications," Carrefour's statement read.
"Carrefour denies having solicited Casino and is surprised that Casino's board of directors would have been submitted a merger proposal that does not exist.
"Focused on the implementation of its 2022 transformation plan, Carrefour is reviewing its legal options in order to stop these unacceptable innuendoes."
just-food has asked Casino for a reaction to Carrefour's statement.
It is unusual for two companies to publicly dispute a story like this, even more so when they are direct rivals.
Given the relative positions of Casino and Carrefour in France and Brazil, as well as Carrefour's recent other strategic moves, including its planned buying tie-up with Tesco, it would be a surprise if there had been an approach for the entire business.
That said, could Carrefour be eyeing parts of Casino's portfolio?