Blog:

UK has France and Germany in its sights

Dean Best | 21 January 2016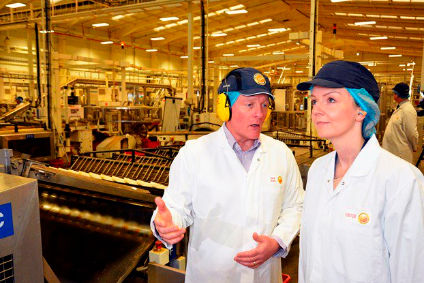 Truss visits Weetabix plant to announce establishment of new government office
The UK government wants the country's food exports to reach the levels of France and Germany, officials said today (21 January) as a new office set up to drive business overseas was formally unveiled.
As part of what the Conservatives have called "a whole-of-government approach" to boost exports, UK Trade & Investment, the country's main trade promotion agency, and the Department for Environment, Food and Rural Affairs, have set up the Great British Food Unit.
Environment Secretary Elizabeth Truss said today the office would "turbo-charge UK food exports". To mark the launch of the unit, Truss visited not a British-owned business but breakfast cereal group Weetabix - in which China's state-backed Bright Food Group holds a majority stake - at its factory in Kettering.
"We produce more new food products each year than France and Germany combined. My long term aspiration is for the UK to match both these countries in terms of the value of exports so our food and drink becomes a worldwide phenomenon," Truss said.
"From Weetabix to Yeo Valley yoghurt, I want to see more of the Great British breakfast enjoyed around the world. Through the creation of the new Great British Food Unit companies large and small will now find it easier to export overseas and receive foreign investment."
Weetabix had already built an international presence prior to Bright Food's investment in 2012 and its growth overseas has been continued with the backing of one of China's largest FMCG groups.
Truss's words were, no doubt, aimed more at the UK's small- and medium-sized businesses looking to build their sales internationally.
The Government's new initiatives have been given a cautious welcome. That the Government is putting the food industry at the centre of its export drive is certainly positive, although much hard work lies ahead, as the most recently-launched export data from the UK's Food and Drink Federation showed.
Sectors: Baby food, Bakery, Canned food, Cereal, Chilled foods, Condiments, dressings & sauces, Confectionery, Dairy, Dried foods, Emerging markets, Free-from, Fresh produce, Frozen, Ice cream, Meat, poultry & eggs, Natural & organic, Private label, Seafood, Snacks, World foods
Companies: Bright Food, Weetabix, Food and Drink Federation