Blog:
Unilever investors want spreads to be sold

Hannah Abdulla | 2 March 2015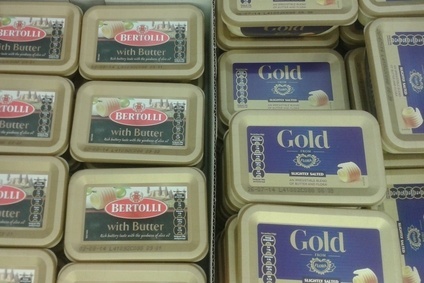 Unilever launched a blend spreads offensive at the back end of last year
It's no secret Unilever's spreads arm has been suffering for some time and, as CFO Jean-Marc Huët pointed out when he reflected on the company's 2014 performance in January, declining demand for its brands was dragging down the performance of the rest of its food business.
Just before Christmas, Unilever announced moves to try to revitalise the flagging unit. It outlined plans for a stand-alone unit for its spreads businesses in North America and Europe in a bid to "accelerate its transformation and return it to growth.
However, for some investors, the move has not gone far enough.
In recent weeks, investment bank Sanford Bernstein has surveyed 100 investors about Unilever's performance and strategic priorities. It claims shareholders want the Flora and Becel owner to offload the spreads assets.
"Investors are frustrated at the ongoing problems with spreads and the lack of coherent strategy to deal with it," said Andrew Wood an analyst at Sanford Bernstein said on Friday (27 February).
According to Sanford Bernstein, comments from investors included: "I am sick of being sick of hearing about spreads" and "The...turnaround strategy for the spreads business borders on the shambolic: one minute run for cash, next margin and now standalone entity with mandate to grow."
CEO Paul Polman was criticised as having "spent a long time getting nowhere in spreads" by one unnamed investor, who added: "The recent decision to separate the business smacks of so much common sense, surely it should have been made much earlier."
Wood said it is "abundantly clear ... investors would like to see management admit defeat and divest this business, despite the dilution impact."
When in December Unilever announced the plans to create The Baking, Spreading & Cooking Company, shares in the FMCG giant jumped. The prospect of offloading a drag on the company's growth clearly warmed the market.
However, at present at least, Unilever appears determined to try fix the business. It's already responded to the sales drag with a "new emphasis on cooking and baking" launching 22 blended spreads that combine vegetable oil and butter. And with Huet's promise of "plenty more to come in 2015" a sale in the coming months seems highly unlikely.
Moreover, it is unclear which companies could step in and snap up the world's largest spreads maker. As we wrote on our comment pages in December, Unilever is far, far ahead of its nearest rivals branded rivals BRF and Bunge, which appear to be the most logical buyers on paper but both with considerations that make them merely possible suitors.
Would private equity therefore step in? It's conceivable but a buyer would want the stand-alone business to demonstrate a sustained period of growth - or at least improvement - before getting out the chequebook.
These notes of caution are not to argue Unilever should not consider selling the business. However, there are obstacles in the near term - which may only add to the frustration of some investors.
One piece of news that may cheer some of the more unhappy shareholders: today Unilever announced a deal to buy UK skincare business Ren.
The Bernstein survey claimed Unilever investors are happy with the company's continuing push into home and personal care and want it to accelerate.