Blog:

US government buys up meat to help drought-hit farmers

Dean Best | 14 August 2012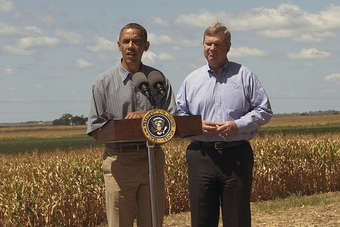 Obama and Vilsack in Iowa to view drought-hit crops. (c. USDA photo by Dave Kosling).
The US government has moved to offer some assistance to farmers affected by the country's drought and announced plans to buy US$170m of meat.
The pork, lamb and chicken will be used for US federal food programmes like food banks and for school food.
Agriculture Secretary Tom Vilsack said: "These purchases will assist pork, catfish, chicken and lamb producers who are currently struggling due to challenging market conditions and the high cost of feed resulting from the widespread drought. The purchases will help mitigate further downward prices [and] stabilise market conditions."
The announcement came as President Obama begun a three-day campaign trail in Iowa, a rural and key battleground state in the upcoming election in November.
US pork producers said they were "grateful" for the move.
"This purchase will help pork producers who are struggling with the effects of this severe drought, which has adversely affected much of the nation's corn crop," said R.C. Hunt, president of the National Pork Producers Council. "In fact, many producers still face the prospect of severe losses because of record-high feed prices, which have gone up because of the drought."
---