Blog:

Waiting for a flight? Browse Tesco's aisles

Dean Best | 7 August 2012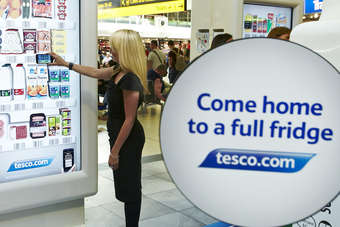 Tesco using Gatwick to "showcase" its multi-channel service
Tesco has launched its latest virtual shopping wall at London's Gatwick airport, the latest manifestation of its strategy to encourage shoppers to buy groceries outside the store.
The Gatwick "virtual store" gives passengers the chance to order products for home delivery when they return from holiday, Tesco said.
It follows on from a similar initiative in the South Korean capital of Seoul last year when shoppers could order from a virtual wall in the city's subway stations.
At Gatwick, customers will be able to view a range of everyday products by scrolling through the unique moving screens on large virtual fridges. There are around 80 products featured, "carefully chosen to enable customers to make a full shop", Tesco said, including milk, eggs, pasta and fruit and veg.
By scanning the barcodes with their smartphones they can add their chosen products to their online baskets, book a home delivery slot and checkout. Their shopping will then be delivered when they return from holiday.
Around 30,000 people depart from Gatwick's North Terminal each day and each has an average of 70 minutes of downtime while waiting for flights, Tesco said. The wall will be up until 19 August.
"Our business in Korea is teaching us a lot about how customers and technology are transforming shopping. It gives us a unique window into the future and the chance to try out exciting new concepts. The virtual store blends clicks and bricks, bringing together our love of browsing with the convenience of online shopping. It's a chance to showcase what we can do to the 30,000 people a day who will depart from Gatwick's North Terminal, many of whom will need to fill their fridges when they get home, and we're looking forward to hearing what they think," Tesco internet retailing director Ken Towle said.
---