Blog:
Wal-Mart brings industry together on sustainability

Katy Askew | 2 May 2014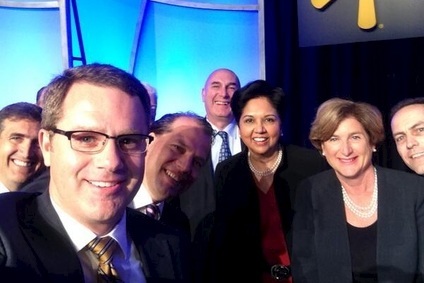 #CEOselfie
We all know Wal-Mart packs quite a punch. The influence the retailer has was in full force this week at the group's first ever supplier expo, when it called on the world's largest manufacturers to improve their environmental footprints.
Wal-Mart's sway was neatly conveyed in the "#CEOSelfie" the group's boss, Doug McMillon, had his PR minions tweet from the event.
I won't digress and start waxing lyrical about all the reasons why the selfie craze is abhorrent. Give something a catchy name that you can put an octothorpe next to (#hashtag) and there is no stopping it.
What is interesting, however, is the line-up of some of the FMCG world's most powerful figures caught awkwardly gawking at the camera.
From left to right you have: Kellogg CEO John Bryant; Wal-Mart's McMillon; P&G's AG Lafley; Unilever North America president Kees Kruythof; Hugh Grant CEO of Monsanto; PepsiCo's Indra Nooyi; Campbell's Denise Morrison; and, squeezing in on the end, Roberto Marques of J&J NA. Other leaders in attendance included General Mills' Ken Powell as well as representatives from The Coca Cola Company, Keurig Green Mountain and Cargill. Quite a collection of heavy hitters.
Following the event, Wal-Mart said eight of the largest food companies in the US have pledged to "help ensure that tomorrow's food supply is affordable and sustainable for the nine billion people projected to inhabit the planet by 2050".
"The commitments aim to drive more collaboration and efficiency across the current food system. In total, the work is expected to bring eight million acres of farmland into sustainable agriculture programs and eliminate six million metric tons of greenhouse gas emissions," Wal-Mart said.
Initiatives focused on developing and supporting sustainable farming. The likes of Cargill and Monsanto have agreed steps to improve production further down the supply chain. Campbell Soup Co said it will cut CO2 emissions and water usage by 20% per ton of food for its five key agricultural ingredients. While PepsiCo entered into a partnership with Wal-Mart that it said would "build on PepsiCo's ongoing programs that are identifying new sustainable farming practices".
Recycling in the US was also a key theme and companies in attendance pledged to invest US$100m in what was termed a "groundbreaking" recycling initiative, the Closed Loop Fund, with the goal of making recycling available to all Americans.
While detractors may argue the event was light on concrete, actionable and measurable targets, there can be no doubt that it represents a step in the right direction.
In order to build a more sustainable food industry collaboration and the engagement of all stakeholders is needed. For all its patchy image on ethical issues, Wal-Mart has taken a leading role in bringing people together and putting sustainability issues centre stage.