Blog:
What next for TreeHouse and ConAgra?

Katy Askew | 2 February 2016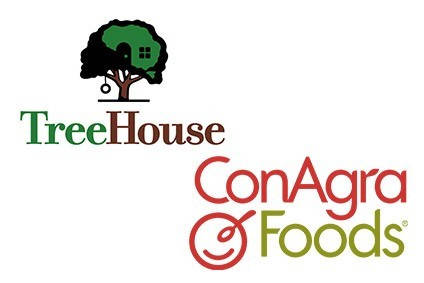 TreeHouse becomes number one own-label supplier in US, while ConAgra looks to focus on brands
TreeHouse Foods announced yesterday (2 February) it has completed its acquisition of ConAgra Foods' private-label business in a deal that will go some way to reshaping the US own-label sector.
TreeHouse paid US$2.7bn in cash plus transaction expenses for the business. The acquisition will almost double TreeHouse's size, creating an enlarged business with sales of around $7bn spanning more than 20 categories.
Sam Reed, TreeHouse chairman, president and CEO, said: "The private brands acquisition broadens our portfolio of offerings for our customers. We remain unwaveringly committed to supporting our customers' efforts to build their corporate brands and offer consumers the best combination of choice and value."
In the low-margin, US private label sector, TreeHouse wants to become the supplier of choice. By broadening its product offering the firm will become a more important strategic partner for retailers. However, for TreeHouse the deal is about more than economies of scale. TreeHouse management believes that it can reinvigorate ConAgra's struggling – and largely under-invested – private label business through a focus on innovation and customer relationships.
Following the acquisition, TreeHouse is well-placed to continue to act as a private-label consolidator.
To discover more on how the transaction will shake-up the US private label sector, click here for our analysis highlighting the ten things you need to know about the deal.
For its part, following the sale of private brands ConAgra announced further changes to its business structure. The company is splitting into two segments: Conagra Brands and Lamb Weston.
The split points to the likelihood of future moves to reshape the Conagra Brands portfolio of retail brands . ConAgra is only investing in around 60% of its portfolio, according to Stifel Nicolaus analyst Chris Growe. The group could well be preparing for further disposals as it focuses in on the brands it believes it can return to growth.
On the flip side of the coin, a more focused Conagra Brands is also well-placed to take a more active role in the ongoing process of consolidation underway in the US. For our full analysis of ConAgra's strategic priorities, click here.
Sectors: Canned food, Chilled foods, Condiments, dressings & sauces, Dried foods, Frozen, Meat, poultry & eggs, Mergers & acquisitions, Private label, Snacks
Companies: TreeHouse Foods, ConAgra Foods