Blog:

What's more British than a strawberries and cream sandwich?

Petah Marian | 20 June 2011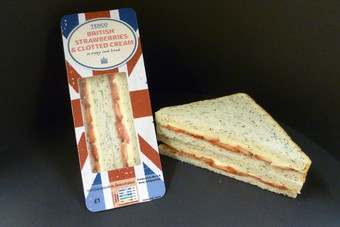 Tesco launched a strawberries and cream sandwich today
What could be more British than strawberries and cream in a sandwich?
Not much, according to Tesco, which today (20 June) launched a strawberries and clotted cream sandwich to "celebrate the start of summer, Wimbledon fortnight and that most iconic of British summer treats - strawberries and cream".
The retailer said that the sandwiches, which are made with sliced British strawberries, Cornish clotted cream, a dollop of strawberry jam, and served on two pieces of white poppy seed bread, will go on sale in its UK stores tomorrow.
Tesco has a reputation for launching silly sandwiches, like the lasagne sandwich, the banana and chocolate sandwich, and of course, the "Singing Sandwich", made for the World Cup 2010 and played the Ole Ole Ole Ole football chant when the packaging was opened.
The just-food team were loathe to cast judgment on this particular launch, so we put it out to our loyal Twitter followers to see what they had to say about the sandwich range.
It was difficult to rouse much enthusiasm from the Twitter-sphere, although Planet Retail analyst Natalie Berg admitted that it "looks more appetizing than the lasagne sandwich".
Meanwhile, another industry watcher described it as "Very British" and was "both strange and interesting!".
From there, the responses seemed to go downhill, with one respondent calling it a "dreadful" idea another calling it "bad insanity", while food PR Rosie Harries could only go so far as to say "Err, eww!".
However, my Mum broadly supported the move, saying that she likes to eat jam and cream on fresh bread, so "why not a sandwich?" and that it would save her from making it herself. Unfortunately for her and for Tesco, she lives in Australia, so she won't be getting one anytime soon.
But we'll leave the final comment to BerryBuddies, the "social media resource for fruit and berries" who said: "I hope they are using the new strawberry variety called Elegance for the sandwich."
---